NEWS UPDATE : August 2018



August 19 : Vinnie Vincent with Carmine Appice live photo's 1980


From :

Giuliano Silva Ognio / KISS Related Recordings
In 1981 Vinnie Vincent (Vinnie Cusano) was involved with CARMINE APPICE self titled solo album. Vinnie co-wrote the song "Drum City Rocker".
Prior this release Vinnie was in his live band CARMINE AND THE ROCKERS.
Check out some live photo's taken in Santa Monica (California), May 23, 1980 clicking here.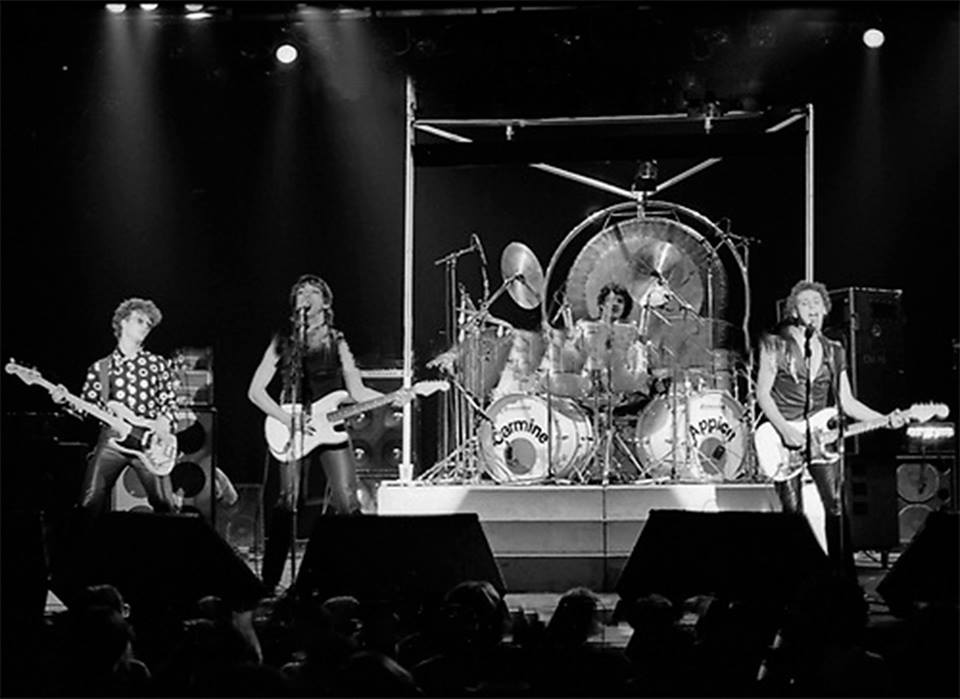 August 18 : My Vault Experiences Amsterdam / Frankfurt review


From :

KISS Related Recordings
Finally, it took some time, but here's my review of two Gene Simmons Band concerts (Tilburg, The Netherlands July 19 and Oberhausen, Germany July 20) I attended, as well as two Gene Simmons The Vault Experiences (Amsterdam, The Netherlands July 22, and Frankfurt, Germany July 24). Because I mentioned Anna Dalva (Bullfrog Bheer 1967 -1968) and Gene Simmons is aware of this website The Amsterdam Vault Experience turned out to be very special for me personally !!
From one moment to another Gene Simmons picked a guitar and played us "Movin' On", explaining that the chords came from Anna Dalva. After Frankfurt, and a few weeks later, it's cool to realize they're back in contact with each other after 50 years !!!

read the full review and stories behind clicking here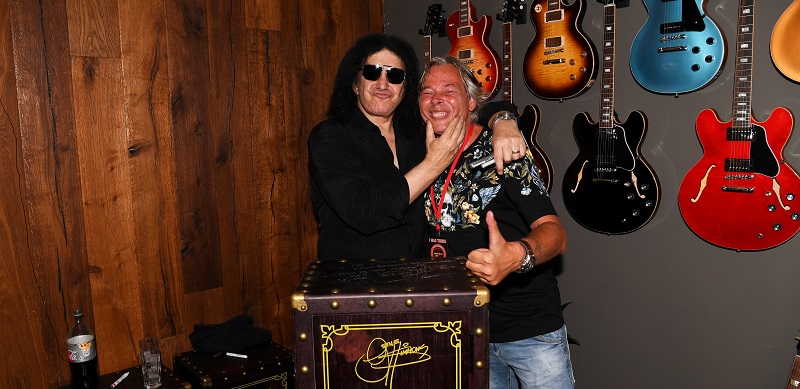 August 17 : A Conversation With Ace Frehley


From :

Michael Cavacini
Blogger Michael Cavacini recently interviewed Ace Frehley, topics includes his recently released albums, recording and touring with Gene Simmons (incl. The Vault).
interesting to read Ace Frehley is pretty direct with some of his answers.

Your new solo album Spaceman kicks off with a great rock song, "Without You I'm Nothing," that you co-wrote with Gene Simmons and Gene plays bass on the track. What was it like sitting down to write a song with Gene again?

It was effortless. Me and Gene have always remained on good terms, pretty much. I had been doing some appearances with Gene to help him sell his crate, his Vault. After a couple of those, I told him I was doing a new record and I invited him down to write a couple of songs with me. He came down a week later and we wrote two songs: "Without You I'm Nothing" and "Your Wish Is My Command."

Gene also plays bass on "Your Wish Is My Command." That song title sounds like something Gene came up with. Was that song title his idea or yours?

He came up with both titles. I wrote the majority of the lyrics. He came up with the bass riff and he had the idea for me to play those chords in "Without You I'm Nothing" and it evolved from there. We did "Your Wish Is My Command" on acoustic guitars and we did "Without You I'm Nothing" with me on electric guitar and him on bass. We did it using Pro Tools in my home studio, and I built the tracks around that.

Did you ever consider having Gene sing on one of the songs he wrote with you?

I thought about it but he's so busy it's ridiculous. He's like a workaholic. God bless him but I can't do what Gene does and he's two years older than me. We're doing Australia and Japan together and he's flying in the day of the first show because, I think, he's doing a show in Canada a day or two before. He's not even going to be on my flight because I'm flying in a day early. The time is so screwy, at least I'll have a day to recover. But he's flying in the day of the show. (laughs) That's Gene! (laughs)

read the full interview clicking here


August 15 : Tommy Thayer in the studio ...


From :

Tommy Thayer (twitter)i
In the studio cutting with Steve Ferrone (Tom Petty and the Heartbreakers) & Jason Scheff (Chicago) with the great Scott Frankfurt at the helm.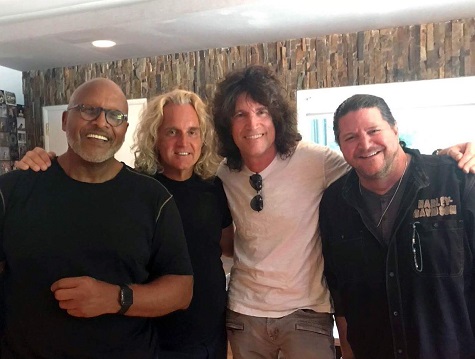 August 9: ACE FREHLEY: 'Spaceman' Album Details Revealed;
'Rockin' With The Boys' Single Available


From :

Entertainment One
Ace Frehley has released a new song today called "Rockin' With The Boys" (iTunes).
This is the second song Frehley has made available from his forthcoming all-new "Spaceman" album, due October 19 via Entertainment One (eOne). Frehley previously released the track "Bronx Boy" in April.

"Spaceman", Frehley's eighth solo LP, features nine new original tracks, including a cover of Eddie Money's "I Wanna Go Back", a ripping power pop makeover of the original.

"No need to worry, I'll be home soon, 'cause I'm rockin' with the boys," Frehley sings on "Rockin' With the Boys", which tells the tales of life on the road. Ace says he wrote the original version of the song back in KISS's heyday in the '70s. Both "Rockin With The Boys" and "Bronx Boys" are available on all streaming platforms today, and are iTunes instant-grat tracks for fans who preorder the album.

In addition to Ace's distinctive guitar sound on each track, Ace played bass on all of the songs on "Spaceman" except for two. The listener might recognize the mighty dinosaur growl of a bass tone belonging to Gene Simmons on the album opener, "Without You I'm Nothing", which Gene also co-wrote, and "Your Wish Is My Command". Both songs were recorded at Frehley's home studio in Rancho Santa Fe, California.

Ace's reconnection with Simmons and fellow KISS vocalist-guitarist Paul Stanley (who joined Ace on a cover of FREE's "Fire And Water" for 2016's covers LP "Origins, Vol. 1") might be chalked up to the fact that Frehley has been sober for more than a decade (he celebrates 12 years of sobriety in September). Ace's clean living no doubt has a lot to do with his productive streak, which began with the release of his top 20 "Anomaly" album in 2009.

"Spaceman" (a title suggested by Simmons himself) serves as the first collection of all new Frehley-penned material since 2014's "Space Invader", which debuted at No. 9 on the Top 200 chart. The LP scored the highest=charting position of any former or current KISS bandmember ever and marked Frehley's first return to the Top 10 since KISS's 1998 "Psycho Circus" reunion album.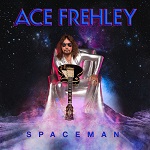 "Spaceman" track listing:

01. Without You I'm Nothing
02. Rockin' With The Boys (iTunes single)
03. Your Wish Is My Command
04. Bronx Boy
05. Pursuit Of Rock and Roll
06. I Wanna Go Back
07. Mission To Mars
08. Off My Back
09. Quantum Flux





August 4 : BOB and BRUCE KULICK related expanded CD reissues


From :

KISS Related Recordings
UK label Cherry Red Records will release expanded 2CD reissues of Bob Kulick's SKULL 1991 album "No Bones About It", and MURDER'S ROW self titled 1996 album.
Both albums features co-writes by Bruce Kulick, as well as a guest appearance on the SKULL song "This Side Of Paradise".
Together with both releases another 2CD expanded release of SKULL is planned which represents a "what could have been" second SKULL album, entitled "SKULL II - Now More Than Ever".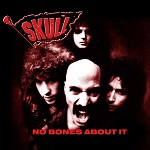 SKULL : No Bones About It , 2 CD EXPANDED EDITION
Release date : August 24, 2018.
Bob Kulick formed the hard rock group Skull, releasing their sole LP, "No Bones About It", in 1991. Now we have a deluxe 2CD reissue from Bob Kulick's cult rockers. This 35 track, 2 disc set also features an alternative, earlier recording of the full album, and is completed by 15 previously unreleased, early demos from the band's
recorded history.

purchase SKULL No Bones About It, 2 CD EXPANDED EDITION at Cherry Red Records > clicking here.
------


SKULL : II - Now More Than Ever, 2 CD EXPANDED EDITION
Release date : August 24, 2018.
This 37 track, 2CD set represents a "what could have been" second Skull album. It includes 14 previously unreleased original studio tracks making up an entire "lost" album's worth of Skull material, plus an abundance of demos dating back to the earliest stages of the band's recording history. What can be considered one of the strongest collections of "lost" songs unearthed in recent times.

purchase SKULL II - Now More Than Ever, 2 CD EXPANDED EDITION at Cherry Red Records > clicking here.
------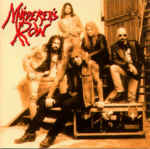 MURDERER'S ROW : Murderer's Row, 2 CD EXPANDED EDITION
Release date : September 21, 2018.
With the short-lived "Murderer's Row", Bob Kulick was joined by Jimmy Waldo on keyboards, who has had as varied a career as Kulick, having played with Alcatrazz, BLACKTHORNE (alongside Kulick), Graham Bonnet Band, NEW ENGLAND and Quiet Riot. The band were fronted by David Glen Eisley, who had previously sung lead vocals for the bands Sorcery (1980-1983), Giuffria (1983–1988) and Dirty White Boy (1988–1991) before joining Bob and Jimmy in Murderer's Row. Drummer Jay Schellenbaum had played with Asia, Circa and Hurricane, with the line-up completed by bassist Chuck Wright.

Produced by Bob Kulick, Jimmy Waldo and David Glen Eisley, and engineered by Pat Regan, the self-titled "Murderer's Row" CD now includes a second disc of unreleased bonus tracks of rough mixes of the entire album.

purchase MURDERER'S ROW : Murderer's Row, 2 CD EXPANDED EDITION at Cherry Red Records > clicking here.

August 3 : JIMMY WALDO/STEVEN ROSEN album feat. Tommy Thayer
From :
melodicrock.com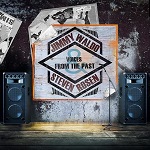 MelodicRock Records is proud to announce another fantastic 'from the vaults' archive project.
'Voices From The Past' is a very special double CD voyage into the heyday of the Los Angeles 80s rock scene, with your hosts Jimmy Waldo (ex WARRIOR) & Steven Rosen.

Jimmy Waldo and Steven Rosen were a prolific writing duo at the height of hard rock's popularity and were two of the go-to-guys for songs. But it didn't stop there. This writing partnership lasted more than 30 years. And featured on these songs are the cream of the city's musicians and singers – Jeff Scott Soto, Steve Plunkett, Billy Trudell, Keith Howland, Tim Pierce, Sherwood Ball, TOMMY THAYER, Jamie St James, Marc Ferrari, Bob Kulick and more!

It is a story best told by Steven Rosen, who has penned a detailed essay for the liner notes. Here he summarizes:

Steven writes: "This songwriting partnership endured and survived the pummeling and pulverizing hammer of the music business, one that relentlessly and thoughtlessly banged you on the head with rejections and the closing of doors. Reaching out hundreds and hundreds of times to publishers, managers, music supervisors and anyone else who might listen to our music, we were summarily dismissed out of hand.
We'd sit for hours writing, recording, bashing our brains out and always coming away with something cool.

A handful of the songs here were things I wrote with other people and which Jimmy engineered. Jimmy had by the time we met, already played keyboards in New England and Alcatrazz and would go on to become a member in BLACKTHORNE, MURDERER'S ROW, Quiet Riot and ultimately Graham Bonnet's band.

As time passed, we began writing with more specific artists and projects in mind. 'Naked' was written as a possible song for Heart; 'Ricochet' and 'When A Heart Beats Alone' were written for an L.A. glam rock band Jimmy was producing called Lace; 'City Of Angels' was written for the Japanese NHK network; and 'Outlaws' was written for an indie film of the same name and so on.

Because we were writing for certain artists, we both knew we needed to pull in guitar players and singers who could convey a specific vibe. We were able to work with mad gifted players like Keith Howland (Chicago), Tim Pierce (Rick Springfield, Goo Goo Dolls), Harry Cody (Shotgun Messiah), Tony Palacios (Guardian) and Lance Morrison (Don Henley, Rick Springfield).

And the singers? Oh, my god. Mona Moore brought drama and passion to these songs like no other vocalist I'd ever heard. Billy Trudell, working in Warpipes at the time, brought soaring and melodic thunder to 'When It Was A Game,' 'Runaway Fire' and '(Ain't No) Honor Among Thieves.'

The songs on 'Voices From the Past' have remained dormant for years, residing in boxes, hidden in dusty corners. Giles Lavery, Graham Bonnet's manager and a music historian with an encyclopedic knowledge of all things rock bordering on ultra-nerd, discovered these DATs, ADATs, reel-to-reels, hard drives and even cassettes deep within the bowels of Waldo's garage. He started listening and was enthralled with what he heard. Giles rescued, resuscitated and resurrected these songs and for that Jimmy and I are eternally grateful."

Complete details of 'Voices From The Past' will be announced shortly – including the full track list and player/singer credits.

As per usual, JK Northrup has done his complete remastering service on the tracks and Nello Dell'Omo has put together some classy artwork to match.

The double CD will be released via MRR on September 28, 2018.

August 3 : COLDTEARS - "Miracle" featuring Bruce Kulick


From :

KISS Related Recordings
Swedish Metal band COLDTEARS have released a digital single entitled "Silence Them All", which song "Miracle" features Bruce Kulick on lead guitar.

COLDTEARS "Silence Them All" is available at iTunes and Spotify.




last update : 2018-08-19


New Releases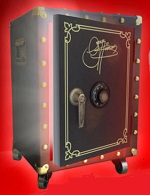 GENE SIMMONS CD Boxset
1966 - 2016 The Vault 2017/2018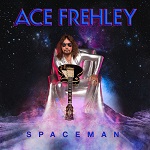 ACE FREHLEY October 19 2018
Spaceman (feat. Gene Simmons)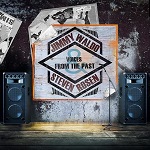 WALDO & ROSEN Sept. 28 2018
Voices From The Past (Thayer)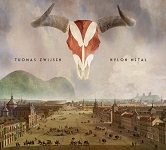 THOMAS ZWIJSEN Sept. 3 2018
Nylon Metal (feat. Bruce Kulick)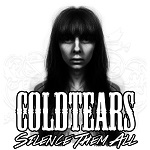 COLDTEARS August 3 2018
Silence Them All (feat Bruce Kulick)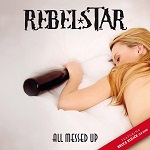 REBELSTAR July 13 2018
All Messed Up (feat Bruce Kulick)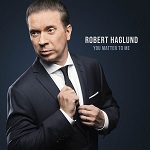 HAGLUND & KULICK June 5 2018
You Matter To Me (digital single)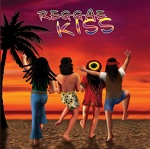 REGGAE KISS June 3, 2018
KISS Tribute (digital album)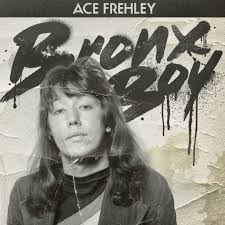 ACE FREHLEY April 27, 2018
Bronx Boy (digital single)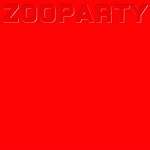 ZOOPARTY March 7, 2018
Lardass (Bruce Kulick)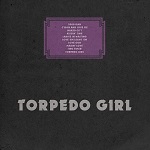 MARCEESE December 22, 2017
Torpedo Girl (KISS Tribute)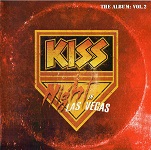 KISS NIGHT IN LAS VEGAS
The Album : Vol.2 Dec 12, 2017




KLASSIK '78 Oct. 30 2017
Side Two (KISS inspired)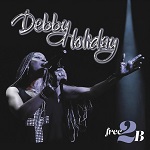 DEBBY HOLIDAY Oct. 10 2017
Free2B (Bruce Kulick)




click album cover to buy !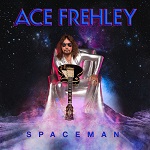 Click here to buy
ACE FREHLEY : Spaceman
(vinyl LP)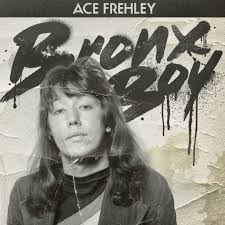 Click here to buy
ACE FREHLEY : Bronx Boy (single)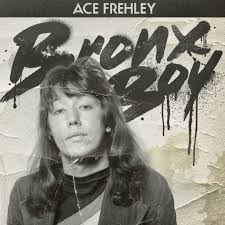 Click here to buy
ACE FREHLEY Bronx Boy (vinyl EP)


News Archives