released 1998 by Tony Mal
LABEL :
USA : Unofficial Issue - 2 MC box set
NOTES :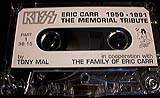 The box-set includes;
- Rare Eric Carr radio interview from his final tour
- Fully authorized Eric Carr biography
- Complete Eric Carr song library
- Unfinished projects file
- Fox facts, sly secrets and Kiss quotes
- Nearly three full hours of archival audio
- 2 pre-Kiss Eric Carr songs!

Box set with 2 audio-cassettes created by Tony Mal for broadcast on WCWP 88.1 FM in late 1992, the package features a 1989 interview plus, for the first time anywhere, is the complete Eric Carr catalog, featuring every official release written or sung by Eric, uncut and direct from digital, including little-known songs recorded by other artists. Plus, as an added bonus, are two songs recorded and sung by Eric before he joined Kiss.
Originating as a previously unavailable HOT IN THE SHADE interview from 1989, which itself had received coverage in the "East Coast Rocker" and other publications, "The Memorial Tribute" evolved into a thoroughly researched, engaging biographical exposť, chronicling the life of Eric Carr and his tenure in the band Kiss..