* The label on side two was dated "for broadcast February 4, 1971, but someone has changed "February 4" by hand with a pen into "March 29".



released 1971 by Micro Groove / Robert G. Jennings Corporation.

LABELS :
USA : Micro Groove / / Robert G. Jennings Corporation - LP

MOLIMO band line up :
Christine Murphy (vocals)
Tom Ellis (vocals, guitar)
Roy Singer (piano, keyboards),
Paul Frehley (= Ace Frehley) (guitar)
Barry Dempsey (bass)
Dave Polinski (drums)



NOTES (by Vinylfarfar) :
Molimo is on side one of the LP and the four present members are introduced by there names Christine Murphy, Tom Ellis, Roy Singer (who is the groups main songwriter according to this interview), and Ace Frehley. They also says that there are six members in the group but the two other names are not mentioned.
The interview is a little more than 3 minutes.
After the interview (on side one) they play the Molimo song "East of Yesterday". It's 3 minutes and 15 seconds. In the middle of the song there is a guitar solo and during this solo they lower the volume and have a short advertising break (about some skincare product) that ruins a part of the song. On side two a group of people talks about Molimo but the group members are not present in this part.
The whole thing is very cool and it is definitely Ace in the interview. His voice is unmistakable! What I can't say fore 100% sure is that Ace is playing on the song!
It's possible that it was recorded before Ace joined the group. They don't talk about that at all so I just have to guess. I personally think that Ace is playing but I can't be sure.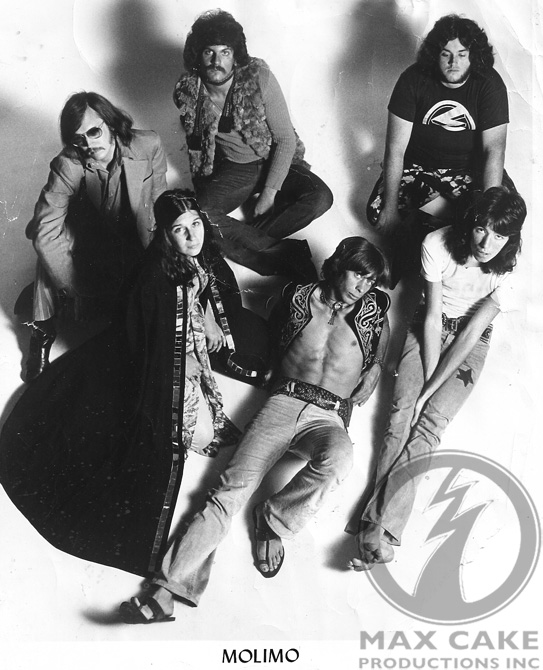 Ace Frehley in MOLIMO 1971 (photo courtesy of AceFrehley.com)



Extra NOTES (by Julian Gill / www.kissfaq.com) :
MOLIMO recorded half an album for RCA Records in 1971.
The band's history begins in Kansas, where Roy Singer and Tom Ellis attended school together. The two moved to New York City in 1969 and formed a band based on the Jefferson Airplane standard of mixed male/female vocals. The band went through numerous line-up changes, before RCA producer Stephen Schwartz hooked them up with Christine. Eventually the band solidified, and with the addition of Ace, the band practiced and wrote for a year as they found a common ground between the members diverse musical backgrounds. Ace joined the band as "Paul," but became "Ace" during his tenure. According to Tom, Molimo was named after a "secret musical instrument used by the African pygmies for their initiation ceremonies."

The band's end was abrupt. They were booed off the stage while opening for Phil Ochs who was transitioning back to folk from rock. Molimo's heavy rock was not appreciated, and members of the band felt that they were heading in the wrong direction. Tom recalls Ace: "He always sounded just like he did when he went to KISS." While Ace went his own way he remained friendly with the band as they transformed into Tomorrow Morning. In fact, Kiss apparently rehearsed at the band's loft at 414 Broadway and invited members to Kiss' show at the Filmore East, where apparently Gene's hair caught on fire.

Amusingly, following the band's demise the core, Roy, Christine, and Tom, formed a new band, Tomorrow Morning, and were signed to Casablanca Records in 1974. They released a single, "Freewheeling" and "I Wished I Was In California," produced by Kenny Kerner & Richie Wise, in the summer of 1974!

One Molimo recording, "East of Yesterday," was broadcast on Richard Robinson's "Rock Stars" radio show, produced by Kenny Weichert, the week of March 22, 1971. The broadcast also included an interview with Tom, Roy, Christine, and Ace.