** Track 09 is mentioned in a Rene Valentino interview.

During live concerts Hari Kari also played the Diamond Head cover, "Am I Evil".




LABELS :
USA : Street Gang productions - demo tape
musicians :
Cathy (lead vocals)
Laura Black (rhythm and lead guitars / background vocals)
Josette (lead and rhythm guitars / background vocals)
Charisse (bass / background vocals)
Rene Valentine (drums and percussion / background vocals)
Eric Carr (additional background vocals on some songs)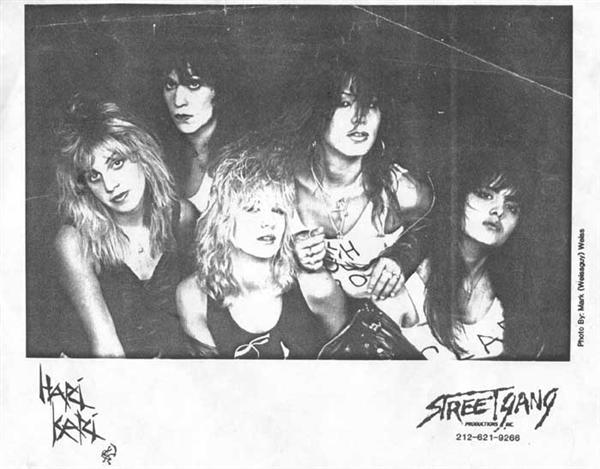 NOTES :
Managed and Executive Produced by Eric Carr.
Produced and Engineered by Dave Spitz.*
Recorded at The Record Plant, New York City.

* Eric later re-engineered the demo with a couple of different songs and with Charisse singing.

Hari Kari was an all-female Thrash-band from New York City.
Eric Carr signed them to his company, Streetgang Productions.
Eric Carr was involved with both demos.
He funded both of them but was only available to engineer the 2nd due to touring.
He also employed Mark Weiss as their photographer, and Eric created a kit to promote the band. Hari Kari was never signed to a recording contract.

Hari Kari did record two demo's : The 1st one is recorded in 1988, and the 2nd one is released in 1989.


Thanx to Charisse Texeira-Palma.