46664: The Mandela Concerts
3-CD set

Released : April 5, 2004
Executive and Event Producers : Jim Beach and Jean Francois Cecillion




CD 1 : 46664 - The Mandela Concerts Part 1 - African Prayer
Eric Singer did not play on the songs as released on "46664 - Part 1. - African Prayer".


CD 2 : 46664 - The Mandela Concerts Part 2 - Long Walk to Freedom
01 46664 (Long Walk to Freedom)
(6:26)
Bono,The Edge,D.Stewart,Y.Dour,A.Wright
02 Speech
(6:36)
Nelson Mandela
03 The Show Must Go On
(9:19)
Queen
04 Afrika
(5:07)
Angelique Kidjo
05 Umquombothi
(5:36)
Yvonne Chaka Chaka
06 The Way
(7:46)
Bongo Maffin
07 Asimbonanga
(5:00)
Johnny Clegg and guests
08 People
(4:42)
Johnny Clegg, Jimmy Cliff
09 Many Rivers To Cross
(3:12)
Jimmy Cliff
10 I Can See Clearly Now
(2:39)
Jimmy Cliff
11 Breathless
(3:49)
The Corrs
12 Toss The Feathers
(3:33)
The Corrs, Roger Taylor
13 Leliungelo Elakho
(4:04)
Ladysmith Black Mambazo, The Corrs
14 Homeless
(5:11)
Ladysmith Black Mambazo
15 Is This The World We Created
(2:29)
Andrea Corr, Brian May


CD 3 : 46664 - The Mandela Concerts Part 3 - Amandla
01 Here Comes The Rain Again
(5:06)
Eurythmics
02 7 Seconds
(5:32)
Eurythmics, Youssou níDour
03 Sweet Dreams
(4:02)
Eurythmics
04 Loose Me Now
(5:45)
Abdel Wright
05 Donít Throw Your Life Away
(3:48)
Ms Dynamite
06 Hurts So Bad
(6:19)
Danny K
07 The Great Song Of Indifference
(4:58)
Bob Geldof
08 Peace, Love and Understanding
(2:57)
Bob Geldof
09 Watershed
(4:26)
Indigo Girl
10 One / Unchained Melody
(6:54)
Bono, The Edge
11 Amandla
(7:07)
Anastacia,Bono,The Edge,D.Stewart,Queen
12a Bohemian Rhapsody
(8:24)
Queen, Zucchero, Thandiswa Mazwai
12b I Want It All
(-: --)
Queen, Zucchero, Thandiswa Mazwai
12c I Want To Break Free
(-: --)
Queen, Zucchero, Thandiswa Mazwai
12d Radio Ga Ga
(-: --)
Queen, Zucchero, Thandiswa Mazwai
13 We Will Rock You
(2:53)
Queen, Anastacia, Amampondo Drummers
14 We Are The Champions
(3:19)
Queen, Anastacia and Cast
15 46664 Chant
(3:57)
Soweto Gospel Choir, Cast





CD 2 : (5050467-2134-2-5) released 2004 by Warner Music Int.
CD 3 : (5050467-2153-2-0) released 2004 by Warner Music Int.


LABELS :
UK : Warner Music Int. - 3-CD set released as separate discs - 5050467



musicians :
Eric Singer* played drums in the house band backing up artists as Queen, Eurythmics, Bono and The Edge, Zucchero and Anastacia.

the house band musicians :
Eric Singer* ( drums)
Frank Paco ( drums)
Keith Prior ( drums, percussion)
Antonio Paco ( percussion)
Jamie Moses ( guitar, vocals)
Steve Stroud ( bass, vocals)
Spencer Mbadu ( bass)
Spike Edney (musical director, keyboards, vocals)
Jeff Leach ( programmer, keyboards)
Paul Weimar ( alto sax, flute)
Mike Kearsay (trombone)
Andy Bush (trumpet, flugelhorn)
Steve Hamilton ( tenor sax, flute)
Stanislav Anguelov (accordion)
Treana Morris (backing vocals)
Chris Thompson (backing vocals)
Zoe Nicholas (backing vocals)
Mandisa Dlanga (backing vocals)
Bongani Masuku (backing vocals)



NOTES :
The 46664 concert is recorded live on November 29, 2003 at Green Point Stadium in Cape Town, hosted by Nelson Mandela, aimed to raise awareness of the global HIV/AIDS pandemic, as well as funds for South Africa.

Artistic and Music Directors; Brian May, David A. Stewart and Roger Taylor.
Musical Director: Spike Edney.
Directed by David Mallet.
Associate Producer: Simon Lupton
Produced by Jim Beach and Jean Francois Cecillon.
Recorded by Justin Shirley-Smith and Toby Alington.
Mixed by David Richards and Josh J. Macrae at Mountain Studios (Montreux, Switzerland) and The Priory (Surrey, UK).

The Nelson Mandela Aids Awareness Concert 46664 is released on DVD & CD.

* On the DVD-version Eric Singer is credited as Eric Mensinger.
click album cover to buy !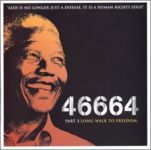 Click here to buy
46664 : The Mandela Concerts
CD2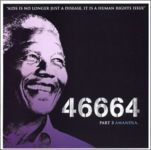 Click here to buy
46664 : The Mandela Concerts
CD3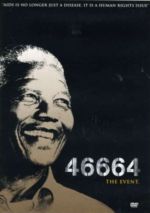 Click here to buy
46664 : The Mandela Concerts
DVD