KRR : Tell us a little of your background - i.e. where you grew up, your family, etc?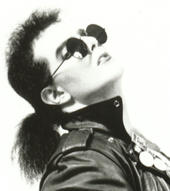 Regent St. Claire 2006
RTS : I was born in Oakland (about 20 miles east of San Francisco) California in 1964, and was adopted as a baby by a well-meaning middle class couple. Dad was an accountant and mom was an opera singer, but she gave that up to get married and start a family. Actually, that's not really why she gave it up, but the true story of why she did is another article altogether.

RTS : I was always very interested in music, even as a very young child. I can thank my mom for that. I started taking drum lessons at age 8, and started my first cover band (Avatar) at age 13. I started playing self-taught guitar around age 16 or 17, and started singing lead in a band around age 17. My parents were fairly supportive of it, until it started including my playing gigs in San Francisco on weeknights until all hours. They didn't like that, and due to my musical endeavors, and a few other "issues," I left home on my 17th birthday.

RTS : My first "real" drumming gig was playing in producer Kevin Army's band, The TOTS, around 1978-79. Army was a great songwriter, and taught me everything I know about it.

KRR : What artist would form your earliest memory of "music"?

RTS : The band that rehearsed two doors down from me when I was about 5 years old. They played Creedence Clearwater Revival (that band actually went to my high school!) covers, and I'd sit on the vertical fridge they had in their garage, eating ice cream while they rehearsed. They weren't very good, but they sure were loud.

KRR : Who are your musical influences? Any all-time favorite band? Album?

RTS : My influences are kind of off-the-beaten-path at least by today's standards. A lot of 70's ultra-pop. AM radio. Elton John, The Raspberries, Three Dog Night, The Monkees, The Sweet, and as of 1976, Kiss of course. AC/DC, The Ramones, The Sex Pistols, Angel, and oddly enough, a number of female rock/pop singers like Joan Jett, Cindy Bullens, Louise Goffin, Suzi Quatro, and Holly (Vincent) & The Italians. The Ramones, The Paul Collins Beat, The Kings, and The Producers.

RTS : As for all time fave bands: Kiss, The Ramones, and a legendary S.F. local band, Head On. We did one of their songs on our first album.

RTS : My favorite albums are Kiss' "Destroyer" and Elton John's "Goodbye Yellow Brick Road." Those are two near-perfect records. In my opinion, "Destroyer" was the pinnacle of Kiss' songwriting and production prowess, and "Goodbye..." is jam-packed with really great EJ songs of every kind.

KRR : How did you get into music, as playing, rather than simply listening or enjoying?

RTS : Kiss inspired that in me. In 1976 I was 12 years old, and Kiss were larger than life. They still are. Its not that I wanted to be "like them," but rather that I wanted to learn how to make that kind of magic.

KRR : When did you make the transition from simply playing an instrument, to joining a band, and what was your first band?

RTS : My first group was a cover band called "Avatar" when I was 13. We took the name from a character in the Ralph Bakshi film "Wizards." I was the drummer, and the band's guitarist and singer was Steve Oliver, my pal from Jr. High school, who has gone on to do some really incredible musical stuff, and he still earns his living making music. I think our first gig was at a church (ooh, that WAS a long time ago!) talent show, and we played "Sweet Home Alabama" and "Taking Care Of Business." Aerosmith's "Sweet Emotion" and The Stones' "Honky Tonk Woman" were also in our very limited repertoire.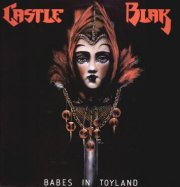 Babes in Toyland (1985)


KRR : Both Castle Blak album contains a cover version of a KISS classic. As a songwriter yourself, what made you decide to record these songs instead of recording own material ?

RTS : I've written over 200 songs in my life, and recorded over 100 of them, so I have no shortage of original material to draw from, but I'm a die-hard Kiss fan, and never fail to acknowledge my debt to them for inspiring me to do music at all. As well, Kiss songs are FUN to play! And of course whipping out a Kiss song in your live set always gets the crowd amped up.

KRR : How do you look back on the 'old days' / Glam Rock scene / the eighties ?

RTS : Those were strange and magical times. Glam was a unique genre. It allowed kids to experiment and stretch their wings, so to speak. I remember standing in line to see "The Rocky Horror Picture Show" when I was 14, and wearing eyeliner for the first time then. There was this tall woman standing in line in front of me with her back to me, and I was wearing a black silk Kiss jacket, and this "woman" turns to me and says: "That's a really great jacket!" My jaw hit the floor, because it was really a guy in drag. First I was terrified, having led a very sheltered, middle-class suburban life up until then, but when the shock wore off, I was amazed to find that this "guy" was actually a very cool person, and was also a Kiss fan, just like me.

RTS : Glam also allowed us to dress-up and play make-believe. It also allowed us to "re-invent" ourselves. You could be a bank teller or librarian by day, and you could still dress up, take on your alter ego, and go to a Glam club at night, and be anyone you could imagine. Almost like being a super-hero with a secret identity.

RTS : The 80's were fun, but also kind of a blur for me, because I was working so hard at making it in music. I know its kind of a contradiction for an artist to be this way, but I've always been a very driven and focused person. I think in every band, there is one member who drives its endeavors. In my bands, that person was always me. I was the guy dubbing hundreds of copies of our demos all night long on my boom box while my band mates were out having fun, or doing their schoolwork. I don't regret it, and if someone had to do it, I'm glad it was me.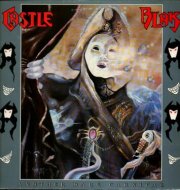 Another Dark Carnival ('87)


KRR : During Castle Blak / Blak, was there any response from overseas (outside USA) ??

RTS : Actually, our best responses were from overseas. For example, our debut LP "Babes In Toyland," debuted at #1 in the UK Indie Metal chart, and in France we were played on the same mainstream radio stations as Foreigner and Madonna.. It makes sense though, because while our records were released on tiny US labels here in the States, we sublicensed them to bigger indies abroad, who had far greater resources to promote us.

KRR : What are you thoughts (or how do you look back) on the moment that grunge (Nirvana) changed the music-scene ... ?

RTS : Music is a secret code for the young. Its a way for them to communicate their hopes and fears and dreams to each other and to a world that they know doesn't understand them. This code changes every few years so that when the kids get to be grown ups, they can't understand the next version of the code that comes along. This insures a "gap" between generations, so that each generation can have their own voice. Their own code.

RTS : Grunge was a knee-jerk reaction to the glamorous opulence that was the 80's, in the same way that Punk was a knee-jerk reaction to the bloated corporate music machine of the 70's. Grunge stripped away all the sexual ambiguity, the bravado, and the spectacle, and replaced it with dirty lumberjack shirts, no makeup, and cryptic lyrics. They thought they were giving music back to the people, but all they did was burn their house down, with all their stuff still inside.

RTS : Grunge lasted about a nanosecond, but it was just long enough to ruin Glam, and leave a nice big vacuous hole that has never been re-filled, and may never be again. Yes, it was necessary for music to change, and it always has changed, but I can tell you this: After Grunge, the music scenes in SF and LA never came back with anything to replace them. The live music scene just happened to die right after Grunge, the Internet, and MTV. Coincidence?

KRR : During that time (1993), a lot of bands changed their looks and attitude, as well as changing their music to a more darker and/ or rougher sound, (for example Motley Crue, KISS with "Carnivals of Souls", RATT's Stephen Pearcy), explaining this to themselves as "we're growing musically ..... " .
Others moved to Nashville trying to make it in country-rock. A few stayed 'true' to themselves (Great White) ....
Do you recognize yourself in one of these situations...; and if yes .. what made you decide to move (on or to) that direction ??

RTS : Well, you have to remember that I'm a songwriter by trade. I've always written in many different styles/genres. I've always prided myself on making records with 10 different songs, that don't all sound the same, the same way that my mentors have done. So the 25 years or so that I was in the business, my music has gone through a lot of different artistic places. Some of it has been on the dark side, some on the romantic side, even some on the humorous side. And yes, I consider that an artistic "evolution." I mean, look at Metallica. A song like "Enter Sandman," is about a million miles away from a song like "Metal Militia." or "Seek and Destroy." The guys all look very different now than when they started, and their music sounds very different too. I don't fault them for that, in fact I applaud them for it. An old friend of mine, Robbie Rist, once told me that if the public were given their choice, bands would make the same record over and over again without changing anything, without evolving or developing at all. But they need us to change and evolve. They don't want us to, but they need us to. Its up to us to take those chances, risk our careers, and risk losing our fans if they refuse to go with us on that journey.

KRR : You also did some work as a producer? Your bio mentions Femme Fatale, Is that the one with female singer Lorraine?

RTS : The Femme Fatale that I produced was not the one with Lorraine. Ours was years before theirs, and we toyed with the idea of suing them for using that name when we already had, but ultimately just let it go. Our single "Put "Em Away," was released many years before the other Femme Fatale ever even played a show.

RTS : As for my making it big as a producer, I produced the handful of bands more as a favor to them than as a career move.
They each made singles or EPs or albums, but none of them had the necessary drive to take their careers to the next level.
I really do love producing, but I'd rather spend my time doing projects related to my own music.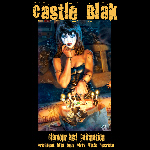 Glamour & Damnation
3-CD-boxset (2006)


KRR : A few years ago Fastlane Records listed on their website that they were going to release a Castle Blak boxset, entitled "Glamour & Damnation". How come that this set is never released, so that you had to decide you've to release it on your own ?

RTS : Yes, Shawn Lane was working on putting together this collection, but it was a very, very ambitious project. 45 songs and a radio interview, plus 3, 20-page booklets, with tons of lyrics and linear notes, stories, artwork, photos, you name it. After over 3 years of Shawn working on remastering and/or editing the music, it still wasn't done, and I just couldn't wait any longer, so that's when I decided to finish it myself, and release it on my own label, The Good Intentions Paving Co..

RTS : Some of the tracks were ultimately remastered by Shawn, but a lot more were done or re-done by other engineers etc. after him.

RTS : I have nothing but the utmost admiration and respect for Shawn, and its clear to me that this project turned out to be a much bigger financial, time, and effort expenditure than he was able to support. And ultimately, it was such a complicated thing to do, that I'm really the only one who could've gotten it done. And it wasn't easy!

KRR : what could we expect on the upcoming boxset, unreleased tracks, demo's , live stuff ???

RTS : Some of the highlights are: A demo version of "Don't Tell Me 'Bout Your Boyfriend" that we recorded at a cheap little studio for our trip to Europe as a tool to drum up foreign licensing deals before we actually recorded the LP "Another Dark Carnival." The sound quality of it is a bit dicey, but the performance and energy are amazing. Also, several tracks from our 3rd release, "No Bed Of Roses," are on it, and that release was VERY limited (I think we only made like 500 of them), so its a good example of where the band was going at the time we broke up. And of course the 3 Kiss covers songs, one from each of our albums, are fun as well. There is so much rare and cool stuff on these 3 discs that I can't really say enough about it here without taking up the whole page. There were also a few tracks that I would've really loved to put on it that I couldn't, like our version of Kix's "Fire Egine #9," that we couldn't include for legal reasons.

KRR : Are you still in contact with the old members of Castle Blak ?

RTS: Not all of them, but most of them.

Matthias Montgomery/Drums: We just recorded a new CB song ("Whose Little Girl?") a few months ago at his home studio specifically for the box set. He's married with 2 kids, still lives back in Nor Cal, and makes a living playing and teaching music. I consider him and Brian Crow to be 2 of my best and oldest friends, and also 2 very cool people.

Scott Sanders/Drums. Died around 1990 in a murder suicide. Killed his girlfriend and then himself. Big, big loser. Nuff said.

David Victor aka David Chayce/Lead Guitar: Went on to make some great records on his own, and now lives in LA. After many years apart, we recently got together for lunch, and I found out he's engaged to be married. No kids. Yet. We've been talking about doing an acoustic duo live thing

Kev Mueller/Bass. Lives in So Cal with his wife and son, is a successful TV producer now. We email and see each other every now and then.

Keith Beattie/Bass: Still lives in Nor Cal, I seem to recall that he's married. No kids. He played bass on our recent recording for the box set. Keith and I go waaaaay back. We were pals in 7th grade.

Brian Crow/Lead Guitar: Of all my ex-bandmates, I've probably stayed in touch most with Brian. Married twice, divorced once, two kids. Lives in So Cal. We're going to the movies together tomorrow night to see the Russian film "Night Watch" which I've already seen and LOVE. Due to the crap that life has thrown at him, I've watched Brian grow up before my very eyes. A good friend and a fine musician.

Chuck More'/Lead Guitar: Divorced, 2 kids, still lives in Nor Cal. Have seen him a couple of times over the past few years.

As you'll see on the extensive credits in the box set, probably 2-dozen or more musicians have come through Blak and my various versions of it, so I'll leave it at the few guys above for now.

KRR : Are there any plans for a reunion club tour ...

RTS : Matthias talks about this quite a lot, and while I'd love to do something like that, it'd be tough to do logistically. We all live in different areas and none of us except Matthias have continued to do music in just about any capacity at all over the past 10 years. Plus, now we all have lives, jobs, and families to consider as well. A reunion also brings up issues like who would be in this version of the band? Which lead guitarist? Which bass player? As well, just recording that one new song a few months ago was a logistical nightmare. It took us 9 months to finally agree on a date to do it, and then getting everyone there (back to S.F.) to do it was nothing short of a miracle.

RTS : We all agree that if the circumstances were right, we'd love to do a show or a few shows, especially in Europe where we had the bulk of our success. If anyone wants to fly us over and put us up, we're all ears. As evidenced by the song we recently recorded, and as noted by rock photographer Bill Hale about that track, "Its like you guys had never stopped. Like you picked up right where you left off."

KRR : Do you have a message, or do you have a story you like to share with KRR visitors ?

RTS : I wanted to share a little story about what it means to me to be a Kiss fan. I think all of us have one, and this is mine:

The only fist fight I've ever been in, was over being a Kiss fan. A big guy walked up to me at school when I was 15, and said: "Kiss fag!" and punched me hard in the head. Not my face, but the top of my head, because I was sitting down at the time and he was standing. He did it because I told him to fuck off in response to his Kiss fag comment to me. It was very embrrasing to get socked by that guy, who was a notorious bully.
About 7 years later, me and the rest of Castle Blak were living together in a house in Martinez, and after a big show that we'd played, we had a party. The house was packed with people and it was a really loud good time, and a guy walked up to me and told me what a great show we'd just done. He reached out to shake my hand, and I realized it was that guy who had punched me in the head for being a Kiss fan.
I told Chuck, my guitarist, to turn off the music, and he did. I then asked everyone to be quiet, and I said to that guy in front of everyone: "You don't remember me do you? (to the crowd) This guy punched me in the head in 9th grade because I was Kiss fan, and now he's standing in MY house, kissing MY ass. (to him) Well I'll tell you what, you can just get the fuck out of my house right now, or I can have all these people give you a dose of your own medicine, because Kiss fukking RULES and you fukking suck. Now get out!" The guy was mortified and he left. I never saw him again.

RTS : Being a Kiss fan taught me to take a stand. It taught me that being part of something you believe in can come with a price. But it also gave me strength. Maybe I never would've even been in a band to begin with if it wasn't for them.
So that's my Kiss story ..........