Introduction
September 15, 2017 Cherry Red Records will release (Vinnie Vincent's) WARRIOR album, which contains the original finished 1982 studio recordings, as well as 5 instrumental versions, plus 5 rehearsal tracks featuring Fergie Frederikson on lead vocals instead of Vinnie Vincent himself.

The WARRIOR story starts in 1982 with the Boston based band NEW ENGLAND, featuring keyboard player Jimmy Waldo, bassist Gary Shea and drummer Hirsh Gardner, and how their plans to record their fourth album with Todd Rundgren were scuppered when their guitarist, John Fannon, unexpectedly quit the group.
They put the word out that they required a new singer, and as they shared AUCOIN management with KISS, Gene Simmons recommended an unknown Vinnie Cusano, who was then helping KISS with their "Creatures Of The Night" album.

NEW ENGLAND was formed in the mid 70's, but it took some years the band finally got signed to a major label. Their 1979 debut album was produced by PAUL STANLEY and their first single, "Don't Ever Wanna Lose Ya" received heavy radio exposure on Album-oriented rock (AOR) stations and reached #40 on the Billboard Hot 100 chart in 1979.

Prior the WARRIOR release, drummer Hirsh Gardner will release his second solo album "My Brain Needs A Holiday" on August 25.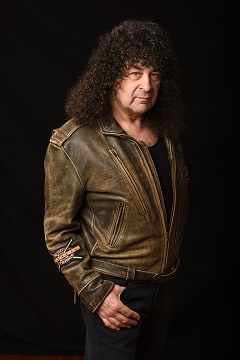 Interview

KRR : When did Bill Aucoin discovered the band NEW ENGLAND

, and was he responsible the band got signed at Infinity Records …, and if yes, why Casablanca (Neil Bogart) was not interested (probably because they were more into disco at the time, and already had ANGEL ?)



HIRSH GARDNER: …… well the answer to your question is yes Bill Aucoin was very instrumental in hooking us up with Infinity Records.
Ron Alexenburg was formerly the head of CBS records and was given an enormous amount
of money to start his own independent label distributed by MCA. But the story goes a little further than just auditioning for Ron and getting the deal with Infinity Records. We had a rehearsal studio just a little south of Boston where we initially auditioned for Bill Aucoin. Bill started bringing record labels to our small studio to audition the band. Neil Bogart of Casablanca was not one of those who came to the studio but I'm sure Bill had had conversations with him about signing the band. Chris Wright from Chrysalis records came
to the studio and basically offered us a huge bag of money to sign with him. Clive Davis,
the music mogul that we all know and love, also pulled up in his limo and sat through a
very loud one hour audition. He also loved the band and offered us a deal. There were several others including my good friend Lenny Petze who was with Epic Records that came
to see the band but we chose to go with Infinity records.

KRR : to me it's interesting that from the moment Paul Stanley did his 1978 solo record, in
a very short time he seems to be involved with other artists , ALESSI Bros, Desmond Child and Rouge, New England …
New England's debut was produced by Paul Stanley and Mike Stone, who also produced Stanley's 1978 solo album. I guess Bill Aucoin suggested Paul Stanley as a producer.
What were your thoughts on that suggestion or decision ??

HIRSH GARDNER: Yes Bill did make that suggestion. We basically had the choice of any producer that we wanted at that time. Names that I recall mentioned were Gus Dudgeon,
Todd Rundgren, Roy Thomas Baker and Robert John Mutt Lange. Of course Mike Stone was also in that list and when Bill suggested working with Paul Stanley we knew what we would get from a audio standpoint with Mike and we thought it would be pretty cool working with the likes of Paul Stanley which turned out to be one hundred percent correct. He was great to work with in the studio.
Can you imagine recording your very first album and having him at the control panel and you're out there doing a drum track?
Hahaha... he was very intimidating but also very inspirational. I mean your working with one of the greatest rock stars in the business.

KRR : was there any reason why Paul Stanley was not credited for his backing vocals on "Don't Ever Wanna Lose Ya" ?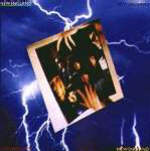 HIRSH GARDNER: It's funny you should ask but that really was never an issue at the time and of course it was never brought up by Paul or anyone else. That just happens to be a very true story that I've told many times of me trying to sing my background parts with Paul at the board. He was like "Hey Hirsh can you try it again?" Or hey "Hirsh your singing a little bit flat, can you try to sing it a little bit more in tune." After quite some time of me trying to nail these parts I said "hey Paul can you come out and sing it and let me see what you want me to do?" So we just kept his parts and we used them...hahaha.

KRR : I've always wondered if it was known at the time that Paul Stanley did produce the album.
Meaning, was his name mentioned in promo letters and album reviews, did it get any attention ?

HIRSH GARDNER: oh it was definitely mentioned at the time. As a matter fact there's a photo of Paul and
the band that was in Billboard Magazine as we recorded the album. We actually may have caught a little bit
of flack from that from some of those naysayers out there but we just let the music do the talking.

KRR : During July - August 1979 New England opened for KISS at their Dynasty Tour ?
What do you remember of this tour, and did it help sell the album ?

HIRSH GARDNER: There are way too many stories to tell about this particular tour. I think that would be a separate interview all by itself. But it definitely helped promote the band and got us in front of hundreds of thousands of people. If you were to look on YouTube and any of the social media sites there are so many wonderful comments from folks who saw the Dynasty tour with New England opening that are very positive.

KRR : New England released two more albums "Explorer Suite" (1980) and "Walking Wild"(1981).
Both were released by Elektra Records, which is a bigger label compared to Infinity Records.
If I'm right these albums didn't do that well compared to the debut album ? What's your thoughts on that ?

HIRSH GARDNER: I truly believe that Elektra records blew it for us. Their distribution and promotion was nonexistent. I remember one of the executives, I think his name was Bert, and he did absolutely nothing to help the band. I'll give you an example. We played in Birmingham Alabama with Blue Oyster Cult. The day of the concert we went to the four major record stores in the city and none of them had our current album which was then Explorer Suite. We were all so very disappointed. Of the 20,000 people that were at the concert if only 100 of them had gone out and been able to buy the album it would have helped our chart success and therefore would have garnered us more airplay. But that did not happen for pretty much the entire tour and the album simply died.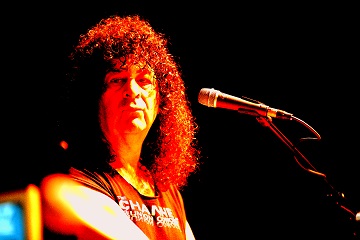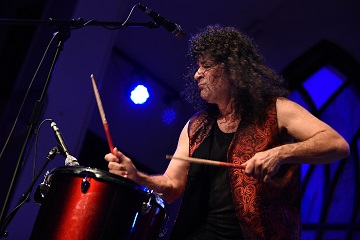 KRR : KISS "Creatures Of the Night" was recorded at the Record Plant Studio's, Los Angeles during July - September 1982…
I guess it's around that time that Gene Simmons recommended Vinnie Cusano. Where you guys in the same studio as KISS ?
And did you Bill Aucoin still managed New England, which are now close to rename the band WARRIOR ?

HIRSH GARDNER: Jimmy, Gary and I flew to Los Angeles and met up with Vinnie around that time. We were rehearsing at SIR Studios on Sunset and KISS was rehearsing in the room next to us. Gene and Paul would quite often come in and watch us play. Vinnie at the time was also writing with Gene and Paul for the Creatures album. I can't help but think that Paul and Gene must have said this guy might work out on stage even though he's too short hahaha. Well I guess it worked out for a little while anyway.

KRR : What where your thoughts when you first met Vinnie Cusano, as a person, as a musician, and especially as a songwriter ?

HIRSH GARDNER: I was absolutely blown away. His songs were just amazing, he was a fantastic guitar player and an even better singer. We all got along extremely well. Partied together at the Rainbow almost every night and we're quickly becoming the most talked-about unsigned band in LA.

KRR : Did you guys all agreed at once with having Vinnie in that band ?

HIRSH GARDNER: I think about 5 minutes after we started playing with him we knew that it was the right fit.

KRR : In New England John Fannon was the main songwriter, and now that band was renamed WARRIOR, Vinnie Vincent became the main songwriter … Wasn't there any input from you, Gary Shea and/or Jimmy Waldo to record some of your own penned songs ?

HIRSH GARDNER: … not really as I think the band was short-lived enough where Jimmy, Gary and myself never had the opportunity to contribute to the mix. We worked on the 10 or 12 song ideas that Vinnie had and tried to work them up to a point where we'd be able to audition for a record company and record our first album.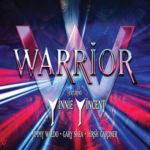 KRR : Now the WARRIOR recordings gets a proper release at Cherry Red Records, I'm wondering who decided the time is right. Except for the Fergie Frederikson (RIP) rehearsals, after the tape trading circuit (80's/90's), all songs circulate on the internet for years … So I think it's interesting to know who's responsible that the WARRIOR recordings finally will be released officially … Did the label contact you ? Or did one of you did contact Cherry Red Records … Or is it Vinnie Vincent himself who decided the time is right ? Are you still in contact with Vinnie ?

HIRSH GARDNER: I really did not have anything to do with the release of the Cherry Red recordings.

KRR : To me it's very cool that Fergie Frederikson is involved too … I'm sure most of us didn't know that.
After Trillion, Frderikson signed with Casablanca Records, and released an album under the alias of David London. In 1981 he worked with Gregg Giuffria in hopes of a possible new ANGEL album under a new line-up. Probably Bill Aucoin suggested to bring in Fergie Frederikson to allow Vinnie to concentrate more on guitar ??

HIRSH GARDNER: … actually we did not have anything to do with Bill Aucoin at that time. We had parted ways with Bill Aucoin in the midst of our third New England album, "Walking Wild". While we were rehearsing with WARRIOR in LA we had several singers including Fergie, Robert Fleischman among others audition for the band. I kept telling Vinnie over and over and over again, dude, none of these people can sing your songs as well as you can. Thus begins the stubbornness that surrounds the Vinnie Vincent story that we've all heard about. A couple years later when Vinnie and I started working together again in Boston, which was the beginnings of the INVASION project, it was the same thing. I was deeply involved with the engineering and production of that record and pleaded with him to forget about finding a new lead singer who could sing higher and higher. The songs in my opinion did not need that and once again Vinnie's vocal performance on all of those productions was stellar. When The INVASION album came out I was only able to listen to the first 30 seconds of it.

KRR : During the first half of the 80's it became regular that new bands released an EP first, before releasing a full debut album.
Were there serious plans at the time to release the WARRIOR EP, was there any interest from a record label ?

HIRSH GARDNER: We had done about six or eight demos at the Record Plant in LA. They were to be played for CBS records and we were about to sign with them when Vinnie got the offer from KISS. It was at that point that the project ended and I returned back home to Boston to continue with my producing career which was flourishing at the time.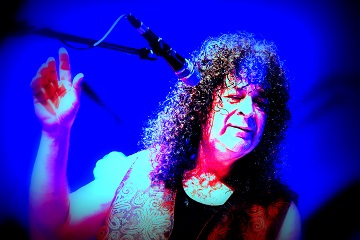 KRR : after WARRIOR, Gary Shea, Jimmy Waldo formed ALCATRAZZ
with Rainbow singer Graham Bonnet and Steeler's guitarplayer Yngwie Malmsteen in 1983.
Why wasn't you involved joining the band as a drummer ?

HIRSH GARDNER: I had left Los Angeles immediately upon The Break-Up of WARRIOR. Gary and Jimmy stayed in LA and it was several months later that they put together their new band.

KRR : In 2002 you released your first solo album "Wasteland For
Broken Hearts" (MTM music), with probably means that you was out
the music business for 20 years. What have you done in between ?
What have made you decide to make a comeback ?
On that album you're singing lead, as well as playing keyboards, besides the drums. You sing pretty well, and sometimes it reminds me to ANGEL's Frank DiMino ("She Is Love") …

HIRSH GARDNER: When I returned to Boston after the Warrior experience I continued with my producing career and was able to do quite well with that. I also played in several bands just to keep my
chops together and have some fun. I recorded the Wasteland album in 2002 and have continued to be involved in the music since then producing, engineering and writing songs. As far back as I can remember I've always been a lead singer or background vocalist in any band that I played in so the singing part of it is not new at all. I have my home studio and also what I call my real studio in Cambridge Massachusetts. I've been continually writing and recording song ideas for many years. As I was putting together some of these songs I had asked a couple of my extremely talented friends like Jimmy Waldo, guitarist extraordinaire Joe Feloni, Jon Butcher and of course Ron Bumblefoot Thal to join ranks with me and play on my songs. It just seemed to make sense at this point to put an album together and release it. Thanks to New England there are still many fans out there that I thought would be interested in hearing some new music from me. I had just finished mixing the New England CD "NEW ENGLAND Live at the Regent Theater" so it only seemed to make sense that I should put out my own solo album.

KRR :"Wasteland For Broken Hearts" contains a sort of New England reunion with "More Than You'll Ever Know" with all members involved Is there a story behind the reunion / song ?

HIRSH GARDNER: We had not played together as a band back in 2002 since we broke up in the early 80's. I remember sending the track to Jimmy and he laid down all his keyboard parts. It just started me thinking that all four of us should really be playing together so I asked Gary and John if they want to contribute and they were happy to join the party. I have to say I'm a pretty lucky guy to have been able to play with three of the most talented musicians in the world...John Jimmy and Gary. I consider them brothers, after all we've now known each other since our early and mid twenties. So hooking up with them back them may have been a bit of a catalyst for the band to start getting together a few years later and doing our yearly reunion shows. Good God when we get together we have serious fun!!!

KRR : Last year New England released a live album "Live At The Regent Theatre", which was recorded in Arlington, MA August 2015.
How often does New England tour, ... what size of venues (seats) ?

HIRSH GARDNER: We do get together once a year or so and do gigs. It's difficult because we're all spread out throughout the USA and each of us has much different agendas. We've done shows where there have been several thousand people and also as few as a couple of hundred. As a matter of fact on October 7 we're playing a very small venue in Los Angeles called Grand Oaks Live. Anyone out there should look this gig up and come and see the band. It's a very up-close-and-personal show that will really blow you away. We are also playing the following week here in the New England area, one gig is at the Spire Center for Performing Arts in Plymouth Massachusetts I believe Friday October 14th and then we're also playing The Bull Run Music Theater in Shirley Massachusetts the next night.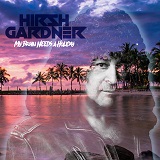 KRR : What can we expect of your new album "My Brain Needs A Holiday" (release date August 25, 2017) ?

HIRSH GARDNER: I think this album really shows a lot of diversity in my Productions. There are kick ass rockers like Do Me Do Me and My Brain Needs A Holiday and then I do a complete left turn with a song like Diamond Moon. I have a lot of very eclectic influences. For instance one of my favorite all-time singers is the country singer Vince Gill whom I worship as a lead vocalist. At the same time I have a song like Git It Back which feature is Ron Bumblefoot Thal on guitar that is very industrial in nature. It's actually me playing live drums but I'm using the track as a loop also combining some synthesizer bass Loops as well. And then there is Love Is which the first three quarters of that song are an acapella performance with me singing about 60 tracks of vocals. But the bottom line is it's definitely a rock album that anyone that enjoys AOR melodic rock will probably love... I hope!!!!

KRR : What are your thoughts of the current music business and scene ? Spotify ?
illegal downloads ? Is rock dead ? The way of recording ?

HIRSH GARDNER: Well it's certainly different than it used to be and that goes without saying. The hope that I have for my album is that the fans will support the artist and the artists that I have playing on the record, will not only buy the digital downloads but order the actual CD and help us to continue to be able to produce great music for the future. In Europe the album is available on Escape-Music and they've come up with a brilliant plan of releasing MY BRAIN NEEDS A HOLIDAY and including my first solo album Wasteland for Broken Hearts.

KRR : What's the first album you bought ?

HIRSH GARDNER: "Love Me Tender" Elvis Presley.

KRR : Who / which band influenced you to become a musician / drummer ?

HIRSH GARDNER: Gene Krupa, Buddy Rich, of course the Beatles and many of the English prog bands like King Crimson, yes, and in later years Steve Winwood and Peter Gabriel.

KRR : What's the latest CD you bought yourself ?

HIRSH GARDNER: Actually I ordered an album online this afternoon... It's called "" My Brain Needs A Holiday" by Hirsh Gardner.