NEWS UPDATE : July - August 2019



August 16 : Cat #1 25th Anniversary Edition 2LP vinyl released
From :
Jelle Jansen / KISS Related Recordings
CRISS 1994 album "Cat #1" 25th Anniversary Edition 2LP purple vinyl (550 numbered copies only) is released today, exactly 25 years after its first release.

At this moment less than 100 copies are available. To order your copy contact Anthony Jr. at tntmusic1353@gmail.com.

Earlier this year Anthony Lombardi decided to let Paul Tavenner do the remastering for the vinyl release, and from then on it was suggested to release the album as a 2 LP set, including the same bonus tracks as used for the Japanese 2018 CD reisue. Around the same time I was asked about my thoughts, and the first thing what came in mind was, that with a 2LP set you've 4 sides with an opening song, instead of one (on a CD). To be honest, before last year, I hadn't spinned the album in years. I once had the Swedish vinyl picture disc of "Cat #1", and I wasn't keen about "Strike" as the first track on the B-side. Thinking back to the 70's and 80's vinyl albums, to me the first song on the B-side is/was just as important as the one on the A-side, for example the first song on each side of KISS' "Love Gun" album.
Another album which I thought of was the KISS compilation 4CD set "Ikons" (2008), where each CD features the songs as sung by one of the original members. To me it was cool to have all KISS songs as sung by Ace Frehley or Peter Criss on one separate CD. With these topics in mind I suggested to switch the track order a bit, as well as Anthony was thinking about putting all ballads on one side of the album.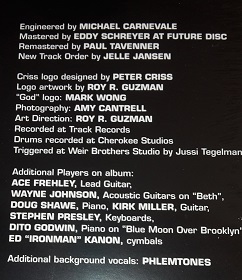 So, for the 2LP 25th Anniversary Edition of CRISS "Cat #1", I decided to put all three songs featuring Ace Frehley together on Side 1.
For side 2 I took all three ballads of the album, except for "Beth". To me it's funny the second side still opens with a heavy riff ("The Truth"), before the track turns into a ballad kind of song. I personally rediscovered "Good Times" as a good song recently, and with "Down With The Sun" all 3 songs together on one side of the vinyl, it turns out you'll easy recognize the way Peter sings like he did on his 1978 and his early 80's solo albums.
For side 3, I thought it was best to open with the MTV video single "Show Me". Besides that, the songs have shared vocals or are sung by Mike Stone. "We Want You" (once) was the last the song of the set list during CRISS 1992 tour, so that's a good reason to close the third side with that particular song.
Because Anthony liked to have "Beth" as the last song on the 1994 album (track order), it was already decided to put that song on side 4. To me it was weird to open that album side with "Beth", and because "Bad People Burn In Hell" is one of the earliest CRISS band songs demoed (in 1991), I switched that track as the opening song for the fourth side of the album, which also contains "The Cat" and "What You're Doin' " as bonus tracks, both taken from the 1993 CRISS EP.
I'm sure some will disagree with me, but on the other hand, I think the new track order of this 25th Anniversary Edition of the album is a good way to rediscover CRISS 'Cat #1, even in a way the mood you're in.

25th Anniversary Edition 2LP purple vinyl track order.
SIDE 1. (length 14:47)
A1. Bad Attitude (featuring Ace Frehley - lead guitar)
A2. Walk The Line (featuring Ace Frehley - lead guitar)
A3. Blue Moon Over Brooklyn (featuring Ace Frehley - lead guitar)

SIDE 2. (length 14:24)
A1. The Truth
A2. Good Times
A3. Down With The Sun

Side 3. (length 12:47)
A1. Show Me
A2. Strike (near sure this is Mike Stone on vocals)
A3. We Want You

Side 4. (length 14:23)
A1. Bad People Burn In Hell
A2. Beth
A3. The Cat (taken from the 1993 EP)
A4. What You're Doin' (taken from the 1993 EP)

To order your copy contact Anthony Jr. at tntmusic1353@gmail.com.


July 11 : Thomas Zwijsen covers KISS again on "Nylon Metal II"


From :

Thomas Zwijsen

/

KISS Related Recordings
Award winning classical guitar virtuoso Thomas Zwijsen will release his eight solo album "Nylon Metal II" on August 31st this year.

The CD contains 16 classical guitar arrangements of metal and rock songs by Iron Maiden, System Of A Down, DIO, Black Sabbath, KISS, Deep Purple, Van Halen, The Scorpions, Blind Guardian, Helloween and more. Thomas performs his favourite metal hits in his signature style combining baselines, guitar melodies and vocal lines simultaneously on one guitar, using a wide spectrum of innovative fingerstyle techniques.

Zwijsen states: "My mission is to bring Heavy Metal to the Classical Guitar world and vice versa, combining the greatness of heavy metal compositions with the beautiful tone of the classical guitar."

Track listing:

Ecstasy Of Gold (Ennio Morricone)
Chop Suey! (System of a Down)
Jump (Van Halen)
The Number Of The Beast (Iron Maiden)
Wind Of Change (The Scorpions)
Heaven & Hell (Black Sabbath)
Holy Diver (DIO)
A Tale That Wasn't Right (Helloween)
Run To The Hills (Iron Maiden)
Mirror Mirror (Blind Guardian)
Alexander The Great (Iron Maiden)
Forever and One (Helloween)
I Was Made For Loving You (Kiss)
Phantom Of The Opera (Iron Maiden)

Bonus Tracks:
Take On Me (A-ha)
Wasted Years 2019 (Iron Maiden)

Last Year Thomas Zwijsen released a 2CD set entitled "Nylon Metal" which features two KISS cover songs; "Forever" (featuring Bruce Kulick) and "Detroit Rock City".


July 10 : JESSE DAMON (Silent Rage)
interview about working and demoing with Gene Simmons
From :
SleazeRoxx.com
/
Jesse Damon
/
KISS Related Recordings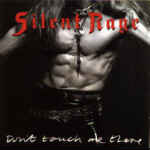 Tyson Briden of SleazeRoxx.com recently interviewed SILENT RAGE lead vocalist / guitarist Jesse Damon.
June 2019 marks the 30th Anniversary of SILENT RAGE's 2nd album "Don't Touch Me There", which was one of the first releases on Gene Simmons then new label Simmons Records.

Topics include : Gene Simmons phonecall for meeting with the band, signing them for Simmons Records; writing songs as well as Gene Simmons suggestions to cover E.L.O.'s "Can't Get Her Out of My Mind" and to re-write and re-record "Rebel With A Cause", which song was already on Silent Rage debut album "Shattered Hearts" (1987); writing and demoing songs with Gene Simmons for KISS' "Revenge" album, as well as writing and demoing songs with Gene Simmons after "Revenge" was released. Many of these recording sessions with Jesse Damon / Silent Rage ended up on "Gene Simmons - The Vault".

- SleazeRoxx Jesse Damon interview part -1
- SleazeRoxx Jesse Damon interview part -2


July 8 :
GENE SIMMONS Reveals KISS have unreleased material Ready to Roll


From :

Three Sides Of The Coin
This week's edition of Three Sides Of The Coin features an interview with The Demon himself, KISS bassist/vocalist Gene Simmons, in conversation with British rock writer (Record Collector magazine) and musician (with UK metalheads Black Sheets Of Rain) Rich Davenport.

Simmons discusses what KISS have in store for fans once the current End Of The Road tour concludes, revealing that the band have unreleased material ready to roll in the vaults, and plans for other projects including a movie and "…all kinds of stuff that makes purists furious."

Says Davenport: "I was offered the chance to interview Gene for Record Collector magazine as the band hit Europe for a series of shows, and as a fan of the band since I was 12 years old, I aimed to ask questions that would appeal to long-serving members of the KISS Army. Gene was cordial and candid about such topics as the band's reasons for making this tour their last, the possibility of an all-new lineup carrying on the KISS name, his relationship with former guitarist Ace Frehley since Ace got sober, the origins of the bands vast range of collectible merchandise, the early days of Casablanca Records, and the different ways in which KISS is perceived by audiences in different countries around the world. I had a lot more material from Gene than it was possible to include in the feature I wrote, so I contacted the guys at Three Sides Of The Coin, and on this week's show, they're airing the full-length audio version, giving you the unexpurgated Thoughts Of Chairman Simmons, on everything from Stevie Wonder to Scooby Doo."

To hear the interview Tune in at Spotify or YouTube.

July 2 : The CULT demo's featuring Eric Singer on
"Sonic Temple 30th anniversary expanded sets"
From :
KISS Related Recordings
/
superdeluxeedition.com
The CULT's 1989 album "Sonic Temple" is getting the 30th reissue treatment in September 2019 with a series of expanded physical sets.

Their fourth album, "Sonic Temple" was produced by Bob Rock and delivered three top 40 hits in the UK ('Fire Woman', 'Edie (Ciao Baby)', 'Sun King') and sold over 1.5 million copies in the US alone.

Beggars Arkive will reissue this album in three physical variations including a 5CD super deluxe box set with the album, B-sides, remixes, demos and live tracks and a 3LP+cassette box set which covers similar ground. An expanded 2LP vinyl edition (featuring six B-sides) is also available.

The box sets feature enhanced, rebooted artwork and the 5CD set comes in book form. The 3LP vinyl package with the cassette is limited to 3,000 units and comes with a host of facsimile memorabilia including replica of original laminate, backstage pass, original press releases, and the like. The label have confirmed to SDE that there is no download code with either of the vinyl sets.

These will be released on 13 September 2019 and are available to pre-order via the SDE shop by CLICKING ON THIS LINK.



From :

KISS Related Recordings
The 3rd CD of the CD set, as well as the music cassette of the 3LP vinyl package (probably) features The SONIC TEMPLE DEMOS as recorded June 11 and 12, 1988 with ERIC SINGER on drums !!!! The Cult was back down to the original core three members and ready to try out ideas for the new album. On 11th June they entered Track Record studios at 5102 Vineland Avenue, North Hollywood with session drummer ERIC SINGER, to record fourteen tracks and on the following day they laid down a further seven.
All songs recorded during the two day session are written by Ian Astbury and Billy Duffy, produced by The Cult. (1st engineer John Carter; 2nd engineers Edgar Garcia, Pete Magdaieno and Ken Palakovitch.)


July 3 : ACE FREHLEY To Release 'Origins Vol. 2' In October


From :

KISS Related Recordings
Ace Frehley recently completed work on "Origins Vol. 2", the sequel to his 2016 collection of cover songs that inspired the former KISS guitarist. The LP, which is tentatively due in October, will feature guest appearances by Lita Ford (singing "Jumping Jack Flash") and CHEAP TRICK's Robin Zander (singing HUMBLE PIE's "30 Days In The Hole").

Frehley recently told The Weekender that "Origins Vol. 2" will once again feature a LED ZEPPELIN tune, "Good Times Bad Times". "I'm really excited about 'Origins Vol. 2'," he said. "It's surpassed my expectations. I got Lita Ford singing 'Jumping Jack Flash', and she's amazing. She came to my home and I coached her for two days with vocals and she just [expletive] killed it. I also have Robin Zander singing '30 Days In The Hole' by HUMBLE PIE. I really wanted to do the HUMBLE PIE song, but I just couldn't cut it, vocally, because [Steve] Marriott's just too good of a goddamn singer. I just couldn't do justice to his vocals. But I remembered that I had bumped into Robin Zander years ago at a meet-and-greet and he had mentioned to me that he'd like to sing on one of my upcoming records, so I remembered that and gave him a call. And he killed it as well. He sounds like a young Marriott."

last update : 2019-08-20




New Releases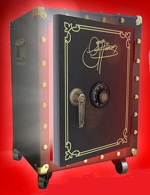 GENE SIMMONS CD Boxset
1966 - 2016 The Vault 2017/2018



The CULT (Eric Singer) 09/2019
Sonic Temple 30th anniversary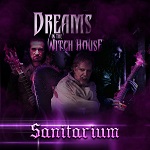 DREAMS IN THE WITCH HOUSE
Sanitarium (Bruce Kulick) June 2019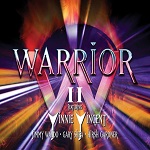 WARRIOR (2CD Expanded)
II (Vinnie Vincent) March 22, 2019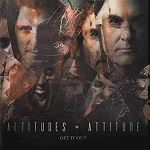 ALTITUDES & ATTITUDE 2019
Get It Out (Ace Frehley) January 18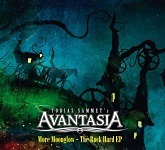 AVANTASIA January 2019
The Rock Hard EP (Bruce Kulick)




click album cover to buy !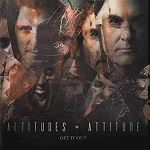 ALTITUDES & ATTITUDE
Get It Out (feat Ace Frehley)


News Archives