July 21: Bob Kulick's Balance debut album reissue


From:

Rock Candy Records
The Rock Candy will re-issue the first Balance album with 2 Bonus tracks in September.
Balance (formed by Bob Kulick) 1981 debut album features special guest Paul Stanley for backing vocals on "Falling In Love".



July 19: VINNIE VINCENT INVASION: Limited-Edition Debut LP Reissue


From:

Blabbermouth
The limited-edition 2006 reissue of the first solo release by former KISS guitarist Vinnie Vincent (he was Ace Frehley's replacement) from 1986, "Vinnie Vincent Invasion", is now scheduled for release on August 10 via Zoom Club. "Vinnie Vincent Invasion" comes packaged in a round CD-sized tin and contains the 10 tracks that were included on the original release.
"Vinnie Vincent Invasion" was produced and arranged by Vinnie Vincent and Dana Strum at Baby 'O Recorders in Hollywood, CA between January and March 1986 and was mixed at Cherokee Recording Studios in Hollywood, CA in April 1986. More information is available at Amazon.com.


July 17: Female Tribute Bands Pay Homage To Rock/Metal Acts


From:

Blabbermouth
On the heels of its third anniversary, Liquor and Poker Music — the "rock" arm of the Century Family — commemorates the occasion with a celebration of its two favorite subjects: women and rock 'n' roll.

Specifically, the label has assembled its first compilation, a collection of female tribute bands paying homage to some of classic rock and metal's biggest names. In stores August 22, the 13-track "Girls Got Rhythm" — featuring cover art by Alan Forbes.

The complete track listing is as follows:

01. THUNDHERSTRUCK - Thunderstruck (AC/DC)
02. THE IRON MAIDENS - Run To The Hills (IRON MAIDEN)
03. MISTRESS OF REALITY - Fairies Wear Boots (BLACK SABBATH)
04. CHEAP CHICK - Surrender (CHEAP TRICK)
05. BLACK DIAMOND - Love Gun (KISS)
06. MS. FITS - Last Caress (THE MISFITS)
07. HELL'S BELLES - Back In Black (AC/DC)
08. THE LITTLE DOLLS - I Don't Know (OZZY OSBOURNE)
09. ZEPPARELLA - The Lemon Song (LED ZEPPELIN)
10. KISSEXY - Lick It Up (KISS)
11. WHOLE LOTTA ROSIES - Dog Eat Dog (AC/DC)
12. RAMONAS - Sheena Is A Punk Rocker (THE RAMONES)
13. FOXEY LADY - Foxey Lady (JIMI HENDRIX)

Plans for a series of record release parties are currently underway, and a "Girls Got Rhythm" tour is also in the works.



July 15 : PAUL STANLEY Solo Album update


From: Brave Words & Bloody Knuckles


KISS frontman PAUL STANLEY's new solo album, Live To Win, will hit the streets on October 3rd (tentative), news has surfaced that the album will be officially released via the Hip-O/Universal label.
Track titles revealed that will feature on the album include: 'Where Angels Dare', 'Bulletproof', 'Second To None', 'Wake Up Screaming', 'Lovin' You Without You Now' and 'Live To Win'.


July 15 : LION'S SHARE update (feat. guest solo by Bruce Kulick)


From:

Blabbermouth
Swedish melodic metal masters LION'S SHARE went to a house in Falun, Sweden (to be able to work closer to singer Patrik Johansson's home) recently, and set up a mobile studio there. Patrik (also in ASTRAL DOORS) sang on five new songs: "Toxication Rave", "Ring of Stupidity", "Trafficking", "Emotional Coma" and "Temple of Time". This means the vocals now have been recorded for 12 out of the planned 14 songs for the upcoming CD. The demo guitars, bass and drums will be replaced with the actual album takes later this fall/winter. 11 tracks are expected to appear on the CD, with three extra songs set aside to be used as bonus tracks. If everything goes according to plan, the band hope to have the album mixed and ready by January 2007 for a possible May/June release.

As previously reported, former KISS guitarist Bruce Kulick has already recorded a guest solo for the song "The Edge of the Razor". The new album will be the group's fifth, with the first four having been released by Century Media and Massacre Records between 1995 and 2001.



July 13 : ACE FREHLEY On Upcoming Circus Of Power DVD


From:

Blabbermouth
CIRCUS OF POWER — Alex Mitchell (vocals), Ricky Beck Mahler (guitar), Gary Sunshine (guitar), Ryan Maher (drums), and Marc Frappier (bass) — have reunited and will be playing their first New York City show in over 12 years as part of director Drew Stone's release party for the new film "The Road To Ruin". For this special "20th Anniversary Show", which is scheduled to take place September 27 at Don Hills, they will be performing their classic self-titled debut in its entirety as well as choice selections from their 1990 (RCA) release "Vices" and "Magic & Madness" (Columbia) 1993.

The show will be filmed for CIRCUS OF POWER's upcoming longform DVD retrospective, "Got Motor? (Swamp Boogie In The Big City)", which is due for release in early 2007 through Renegade distribution. The DVD will include many classic performances of the band as well as the now legendary appearance from the "Morton Downey Jr." show. The show is a time capsule of New York's chaotic rock scene of the late 1980s. Highlights from the show include the band performing their song "White Trash Queen" from their debut album along with KISS guitar player Ace Frehley. The DVD will also contains live performances as an rare acoustic version of "Don't Drag Me Down" from the "Vices" album from Japanese TV.



July 5 : ERIC SINGER: Live ESP CD Due Later In The Year


From:

KissOnline.com
KISS drummer Eric Singer recently answered a few questions from fans via the band's official web site. A few excerpts from the question-and-answer session follow:

Q: What have you got on your plate in terms of studio albums? Is ESP an "ongoing band?" I thought it was just a one-off thing? I remember reading a few years back that you had a "glitter band" tribute group you started are they defunct now? Ever thought about releasing a live gig on CD under the ESP or UNION name?

Eric: "I am currently on tour with ALICE COOPER and will be going to Japan with KISS at the end of July for four shows, which I think should be very cool and a lot of fun! ESP is an ongoing 'project' or fun band, if you will... We do gigs a couple/few times a year when possible or schedules permitting. We did record a 'live' CD in Japan for release later this year and may also release a 'live' DVD as well from another show we did in Sydney, Australia. GLAMNATION was the fun glam band that used to play around the L.A. area in summer of 2000. We did do shows on and off for a few years but everyone has moved on to other things and the band faded out. It was a lot of fun during that time I must admit since I got to play songs from such a great era...

Read the entire question-and-answer session at KissOnline.com.


July 3 : a follow-up to Christine Sixteen: A High-School Tribute To Kiss


From:

Patrice Beaudette
After our incredible trip to Myrtle Beach for the Kiss CoffeeHouse Grand Opening (read full story at KISSonline) we decided to do another KISS tribute during the next school year instead of Metallica.

I'm proud to announce the follow-up to "Christine Sixteen: A High-School Tribute To Kiss". Since we had so much fun doing the first one, we decided to continue the KISS adventure with a second and final KISS tribute. Many songs had to be let go the first time around so it gives us a chance to finally record them.

The CD will be pressed, again, at 500 copies and will be available in April 2007. We're NOT taking pre-orders at this time.

Our web site, www.christine16.net, will go under construction during July and August to reflect the new project.

Once again, this is a non-profit venture. And look-out for new singers as well as returning ones...

Here's the set list for CHRISTINE SIXTEEN 2: ANOTHER HIGH-SCHOOL TRIBUTE TO KISS: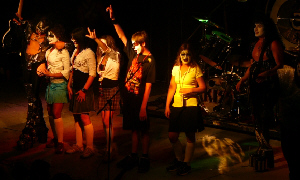 Black Diamond
Hard Luck woman
Dirty Livin'
Charisma
War Machine
Baby Driver
Shock Me
Larger Than Life
Into The Night (Ace Frehley)
Creatures Of The Night
Watchin' You
Got Love For Sale
Nowhere To Run
100,000 Years
Master And Slave
Jungle

The Metallica project is therefor post-poned for a year...


last update : July 31, 2006
News Archives
GENE SIMMONS Family Jewels
Link :A&E Television Networks

New Releases

PAUL STANLEY October 24, 2006
Live To Win

V/A: Girls Got Rhythm (female tribute
feat. two KISS covers Aug. 22, 2006

80s Metal Tribute To Van Halen
Kulick / Singer July, 2006

BLACK JACK May 30, 2006
Anthology (2LP = 1 CD reissue)

ALICE COOPER May 29, 2006
Live In Montreux (DVD/ CD)

CASTLE BLAK April 15, 2006
Glamour & Damnation (KISS covers)

BAD CANDY March 24, 2006
Bad Candy (Bloodtype R > Stanley)
News Archives