NEWS UPDATE April 2010

MySpace Stream of the Month : Punk Goes Classic Rock


From:

Kiss Related Recordings / Kissfaq.com
"Punk Goes Classic Rock" features a selection of the up-and-coming alternative rock bands doing their own cover versions of classic tracks by such bands as KISS, Journey, Queen, and Def Leppard.

The Summer Set, a powerpop band from Scottsdale, Arizona,turned in a cover of "Rock And Roll All Nite" for the compilation. "We chose 'Rock And Roll All Nite' by KISS because we wanted a song that we could transform and give our own band's flavor to," said guitarist Josh Montgomery. "We think it's important to have a cover song that our current fans and future fans can identify our band with. The song is upbeat and an incredibly fun live song. We had just as much fun recording it as we do playing it; you can hear us screaming and breaking bottles in the intro and outro of the recording to give it that live show/party feel."

The album is scheduled for release on April 27. To stream "Rock And Roll All Nite" and other songs from the album, visit www.myspace.com/punkgoesclassicrock.

| | |
| --- | --- |
| | |

April 30 : Mars Attacks Podcast 8 – Interview With Bobby Rock


From:

marsattacksradio.com
During this episode I'm joined by former Vinnie Vincent Invasion drummer Bobby Rock. Items discussed during this interview are why the Invasion broke up, various Vinnie Vincent rumors, why Robert Fleischman left the band, and if he would ever play with Vinnie again. Other items discussed include recording with Nitro, Nelson and all things fitness as well as authoring several books.
Download Mars Attacks Radio - Podcast 8 - Bobby Rock interview, clicking here.

April 27 : Interview With BK3 Producer Jeremy Rubolino


From:

kulick.net
It's one thing to play music; it's another thing entirely to be a musician. Jeremy Rubolino is a musician in every sense of the word: he plays, creates, produces, arranges, listens and - most importantly - feels every note. That passion is what makes him a perfect partner for Bruce Kulick. Together they recorded BK3, and together they work as a team, writing for and producing other artists in an artistic relationship that Rubolino describes as almost indescribable: combining musical thoughts and ideas with a synergistic, natural vibe.

Despite a remarkable story and a wealth of experience in the studio, Jeremy Rubolino prefers to stay out of the spotlight and let the attention fall upon the artists and projects to which he applies his talents. He seldom, if ever, gives interviews - partly out of privacy and partly because he is in such demand that his schedule leaves little time for anything other than music. That said, he was enthusiastic about discussing BK3, a project he's proud of, and Bruce Kulick, a guitarist that he is proud to know and work with.

To read the Jeremy Rubolino interview, click here.

April 24 : John 5 "Fractured Mirror" Sample Available


From:

Kiss Related Recordings / Kissfaq.com
As previously reported, guitarist John 5 will include a cover of Ace Frehley's "Fractured Mirror" on his forthcoming new album "The Art Of Malice".
The album will be released by 60 Cycle Hum / Rocket Science Ventures on May 11.
"'Fractured Mirror' is a tribute to Ace Frehley. He really inspired me and that song specifically inspired me to start playing guitar," says John 5.
To hear a 30-second sample of the track, click here.

April 20 : Bruce Kulick related : Chris Laney album delayed.


From:

Kiss Related Recordings / Chris Laney Management
The new Chris Laney album "Only Come Out At Night" is about two weeks delayed …
it will hit the stores on May 7th instead of what is previously stated!!
The album features three songs co-written by Bruce Kulick.

April 9 : Black Diamond Dust With Kenny Kerner


From:

Tim McPhate / Kissfaq.com
Kenny Kerner happens to be a very key figure in KISStory. It was Kerner who came across the KISS demo (on reel-to-reel, no less) one Friday evening in Neil Bogart's office in 1973. Extremely impressed with what he heard, he returned the following Monday and advised Bogart to sign the band. Kerner had uncovered the proverbial gem amid the pile of rubbish. And it would be he and production partner Richie Wise who would be brought on board to produce the self-titled 1974 album.

In KissFAQ's latest interview installment, we step back with Kerner to talk not only the debut album and "Hotter Than Hell," but how he and Wise formulated their partnership, Bogart, guns, Casablanca Records, and much more.

- Kenny Kerner - The KissFAQ Interview

April 9 : SIMMONS Records & UMC present The Envy


From:

simmonsrecords.com / genesimmons.com
Here is an inner communication for the staff at Universal Music, our partners in Simmons/Universal Music Records.

Hello All,
As some of you may have seen in the press recently, Gene Simmons has officially announced The Envy as the first signing to his label Simmons Records in Canada!
The Envy, who formed in early 2009, are presently recording with JUNO award-winning producer Gavin Brown (Billy Talent, Metric, Three Days Grace) as well as the songwriter/ producer Desmond Child (Katy Perry, Aerosmith, Bon Jovi, Tokio Hotel) for their Simmons/ UMC debut release. Last year, the band toured across Canada with the likes of Stereos, Marianas Trench and The Midway State.
The Envy will be a long term development project for Universal Music Canada. We see a big future for these guys and are very excited to be working with them!

"We are proud to announce our first signing: The Envy….You will be hearing a lot about them soon. We have embarked upon fulfilling our mandate to discover new and exciting Canadian talent and to take them around the world. Count on it!" – Gene Simmons

Here are some initial details on The Envy project.

Artist: The Envy
Album: The Envy
Release Date: Fall 2010
Marketing: Madelaine Napoleone / Ivar Hamilton
Publicity: Marcus Tamm
A&R: Mark Spicoluk / Gene Simmons
Label: Simmons Records / Universal Music Canada
Website: www.theenvymusic.com

The Envy is:
Shaun Frank - Vocals
VØID - Guitar
Jonny Biggs - Keyboards
Bodan Mulholland - Bass
Izzy Centeno - Drums

Press links:
ET Canada
Toronto Life
Canoe
KISSonfire.net

Much much more to come!


April 5 : KISS and Related items for sale @ WeGotYourRock.com


From:

WeGotYourRock.com / Kiss Related Recordings
This weeks new added offers on WeGotYourRock.com include :

Detroit Rock City / Beth - Casablanca / EMI Electrola - 7" - Germany 1976
Christine Sixteen / Shock Me - Casablanca / N©B - 7" - Sweden 1977
Shout It out Loud (live)/ Nothing To Lose - Casablanca / Victor - 7" Japan 1977
I Was Made For Lovin' You / Hard Times - Casablanca / Durium - 7" - Italy 1979
Sure Know Something / Dirty Livin' - Casablanca / Bellaphon - 7" Germany 1979
Shandi / She's So European - Casablanca / Phonogram - 7" - Holland 1980
Shandi / She's So European (jukebox) - Casablanca / Phonogram - 7" Germany 1980
Thrills In the Night / Burn Bitch Burn limited fan edition - Phonogram - 7" Holland 1984
Hide Your Heart / Betrayed - Polygram / Vertigo - 7" UK 1989
Killer / I Love It Loud / I Was Made For Lovin' - Phonogram - 12" Holland 1982
Kiss (censored logo - reissue 1980) Casablanca Phonogram - LP - Germany 1974
KISS - Alive ! - Casablanca / Bellaphon NB-7004 - 2LP - Germany - reissue 1976
KISS - Alive ! (clear light magneta vinyl)- Mercury - 2LP - Japan - vinyl reissue 1998
Love Gun - picture disc LP - Holland - 1977
The Best Of Solos - Paul, Peter, Ace Y Gene - LP - Argentina 1980
The Elder - LP - Holland 1981
Head / Carnival Of Souls - picture disc LP - USA 1996
Boxset : Psycho Circus VHS + We Are One CDs - Germany 1998
Unplugged Uncut - fanclub VHS video - Europe 1995
Blitz London - rare vinyl - LP - Holland 1976
Double Runes Rule - rare vinyl picture disc LP - 1987
Still Krazy - rare vinyl 2LP - 1988
KISS laminated guest pass Revenge World Tour / after show party pass USA 1992
KISS peel off VIP guest pass Alive World Wide 1996 - 1997 pass USA 1996
KISS laminated personal guest pass Psycho Circus pass USA 1998



April 3 : Guitarist John 5 To Cover "Fractured Mirror"


From:

Kissfaq.com
Guitarist John 5 (Marilyn Manson, David Lee Roth, Rob Zombie) is releasing his latest solo album, "The Art Of Malice," on May 11. A self-described huge KISS fan -- and participant in Ace Frehley's new "Behind The Player" DVD -- John 5 will be including on the album a cover of Frehley's classic 1978 solo album closer "Fractured Mirror." "Fractured Mirror" was previously covered by the late Dimebag Darrell on the "Spacewalk: A Salute To Ace Frehley," released in 1996.
For more information on "The Art Of Malice," visit www.john-5.com.



From:

Kiss Related Recordings
In related news, Norwegian singer Audrey Horne just released her self titled debut album, which limited edition 2CD Digipack version features a cover version of KISS "Nowhere To Run".


April 3 : Gene Simmons on ET talking about The Envy!!!


From:

simmonsrecords.com
The Envy is his first signing to his new Simmons Records/Universal Label.


last update : 2010-04-30


New Releases
April 27, 2010


April 3, 2010

April 3, 2010

February 2, 2010

January 26, 2010

January 26, 2010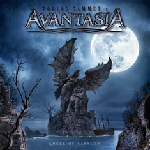 AVANTASIA (feat. Singer / Kulick)
Angel Of Babylon April 3, 2010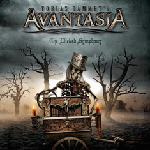 AVANTASIA (feat. Singer / Kulick)
The Wicked Symphony April 2010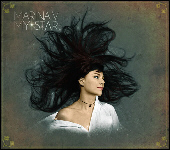 MARINA V. (feat. Bruce Kulick)
My Star March 29, 2010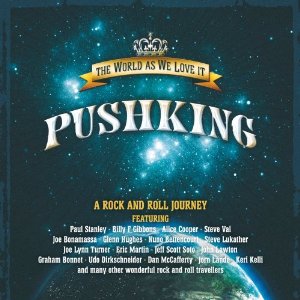 PUSHKING (feat. Paul Stanley)
The World As We Know It 2010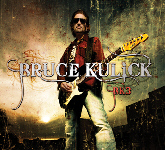 BRUCE KULICK January 2010
BK3 (feat G. Simmons & E.Singer)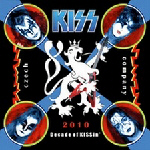 KISS CZECH COMPANY 2009
Decade Of Kissin' (Tribute Band)



News Archives