NEWS UPDATE January 2012
January 29: Crazy Nights, 25 Years Strong: Ron Nevison interview


From:

Kissfaq.com
Just months after the "Asylum" tour, in summer 1986, Paul Stanley was already mulling the direction of the next KISS album.
Though the in-house produced "Asylum" crept past gold status, Stanley was taking note of bands such as Bon Jovi, Poison, Heart, and Ozzy Osbourne, who were all racing up the charts with hit singles and multi-platinum albums. He wanted KISS to get in on the action. He knew he needed a hot producer to help him toward this goal. He wanted Ron Nevison.
Nevison's discography reads like a who's who of classic rock royalty, including work with the Who, Led Zeppelin, Bad Company, Thin Lizzy, and the Rolling Stones, among others. By the time the calendar turned to 1987, he was fresh from resuscitating the career of Heart, who sold millions on the strength of four hit singles from their 1985 Nevison-produced self-titled album. Nevison was in such high demand throughout late 1986 and early 1987, KISS (read: Paul Stanley) chose to hold their new album until his schedule was clear.
The resulting fruit of Nevison/KISS' labor was
"Crazy Nights." True to 1987-style rock, there are big guitars, shout-along choruses, shredding solos, ample keyboards, well-crafted songs, and polished production. The album finds Stanley's powerful voice in fine form, particularly on the singles "Crazy Nights," "Reason To Live" and "Turn On The Night."
After recording was completed on "Crazy Nights," the band thought they had hit a home run. "Everybody was really excited," recalls Nevison.

Read the interview clicking here.


January 29: The Torpedian Harmonists - Talk To Me (cover version)


From:

Kiss Related Recordings
Check out this funny vocal-harmony cover of "Talk To Me" by The Torpedian Harmonists (Germany).


January 22: I'm a Legend Tonight - An Italian Tribute To Eric Carr


From:

Kiss Related Recordings
Italian label Bologna Rock City Records in partnership with EricCarr.com recently released an official Italian Tribute to Eric Carr "I'M A LEGEND TONIGHT". Fifteen Italian bands has taken part of this project and Bologna Rock City Records is proud to announce that everything is realized in friendship with Loretta Caravello and all Eric Carr family.
The CD has been made to support also ANT (Ass.ne Nazionale Tumori) to contribute human fight against cancer.

Bologna Rock City Records are available at www.self.it.

Tracklist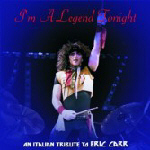 1. Crazy Crazy Nights (Danger Zone)
2. Lick It Up (Crying Steel)
3. Who Wants To Be Lonely (Markonee)
4. Under The Gun (H.A.R.E.M)
5. War Machine (Midnite Sun)
6. Forever (Deadly Tide)
7. I Love It Loud (Neurasthenia)
8. Creatures Of The Night (Sange:Main:Machine)
9. I'm A Legend Tonight (Kissexy)
10. King Of The Mountain (Noise Pollution)
11. Heaven's On Fire (Superhorrorfuck)
12. A World Without Heroes Remix (M. Luppi / R. Priori)
13. Rock And Roll Hell (Gunsmoke)
14. Hide Your Heart (Live 4 Win)
15. Uh! All Night (Kiss Web All Star)

Order "I'm a Legend Tonight - An Italian Tribute To Eric Carr" clicking here.


January 15 : ERIC CARR "Unfinished Business" contest winners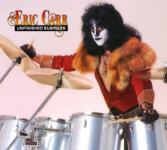 From:

Kiss Related Recordings / www.wienerworld.com
Thanks to Wienerworld Ltd., KRR is able to giveaway 2 copies of ERIC CARR "Unfinished Business".

The winners of KRR's ERIC CARR "Unfinished Business" contest are Nacho Bustamante Estébanez and Melyssa Terrazas.

Below are the right answers of last month contest.

1) Danger Danger singer Ted Poley sings lead vocals on
"Just Can't Wait".
Name the title of the KISS song Danger Danger did
perform live during their Japan 1992 Tour.
ANSWER : Deuce

2) In 1987 Ace Frehley's "Frehley's Comet" was released. The album contains "Breakout",
which song is based on on a track Eric Carr and Ace Frehley wrote during KISS "The
Elder" sessions. Less people know that Ace Frehley and Eric Carr demoed a song which
is also known as "Breakout II". Name the title of that song ?
ANSWER : Rock Your Mind

3) bonus question.
From the start of the KISS Related Recordings website may 1997, I received a lot of
help and response from KRR visitors. At the time I found out that there was a fake Eric
Carr demo circulating in the (tape-)trading circuit.
That tape contains the songs "Rock Me Slowly" and "Wet and Wild".
Actually these songs were taken from the 2nd EP (1980) of an artist who later became
an American Emmy Award winning singer, songwriter, producer, and guitarist.
What's the name of this artist/singer/songwriter ?
ANSWER : Paul Sabu


January 7 : New 'Monster' album update from Paul Stanley
From: KISSOnline.com
Paul Stanley checked in with KISSOnline this morning to give us the latest update on the new KISS album:

"Friday we officially completed work on the new album.
Listening to the tracks back to back is like sensory overload. Everyone who has heard any of it is completely blown away. Powerful, heavy, melodic and epic.
It makes us very proud. You all will be too. Mixing starts next week."


January 7 : New 'Monster' album update from Gene Simmons
From: genesimmons.com
KISS Studio Album is done.
Great job by Paul producing. Tommy and Eric = really kicked it up a notch.
Without overstating the obvious, when you hear the album, every single track rocks.
No ballads.
No outside writers.
No keyboards.
No children's choirs.
No nothin'.
Just meat and potatoes.


January 6 :
Van Halen debuts unreleased song from '76 Gene Simmons demos
From: Blabbermouth.net
All the way back in 1976, a young Gene Simmons caught a show of the even younger band Van Halen. So impressed was Simmons, he offered and did produce the band's first demo tape. And just last night one of these long forgotten songs came to light at a live Van Halen club performance in NYC. The song, She's the Woman, is also slated to appear on their soon to be released studio album.

VAN HALEN returned to the stage for the first time since the end of its 2007/2008 reunion tour on Thursday night (January 5) when the band performed at the tiny Cafe Wha? nightclub in downtown Manhattan.

The setlist for the evening's show stuck to VAN HALEN classics from the six albums of the initial David Lee Roth era, with the exception of a tune called "She's The Woman". That song originally appeared on the 1976 demo tape, produced by KISS bassist Gene Simmons, that got VAN HALEN their record deal with Warner Bros. It was left off the group's 1978 debut but has been resurrected for the new disc.


January 6 : Paul Stanley's Commentary on 6 new 'Monster' tracks
From: KISSOnline.com
Classic Rock Magazine's February issue features Paul Stanley's thoughts on 6 tracks from KISS's upcoming album! Here's an excerpt:

When it came to recording KISS's new, 20th album, 'Monster', Paul Stanley was wearing a big hat with the word 'Boss' on it. Metaphorically, anyway.

"I wasn't interested in making an album unless I was in charge and no one agreed to it half-heartedly," says the singer and guitarist, taking a break from co-producing the record at Conway Studios in Hollywood. "The band's all there, all the time, and we cut the tracks all facing each other in the same room. Chemistry and camaraderie, that's essential. That's what made Sonic Boom so great, and this album is thunderously better."

Firm but fair, we say. And if Stanley is to be believed, then their late-career hot streak shows no sign of fizzling out anytime soon. Which is why we've asked him to take us through Monster's key tracks. Take it away, Mr. Starchild...

"IT'S A LONG WAY DOWN"
"It says that those who reach heights and don't appreciate them fall mightily -- it's a long way down from the top. It's a defining track in the sense that it's very up-tempo and very much a signature song. Eric's [Singer] drumming is incredible on this."

"BACK TO THE STONE AGE"
"One that Gene sings. It's exactly what you'd expect it to be from the title. I come from a school where you write a verse, a bridge, a chorus, and then you go back. That's in my blood. It's in Motown, it's in The Beatles, it's in Led Zeppelin, it's in The Who, it's in all my favorite bands."

"SHOUT MERCY"
"That's a great track. There's a lot of tracks that could start the album, and this is one of them. I like to think that the opening song is a declaration of what the album really is, whether it's a Love Gun or a Detroit Rock City. It's important to start with a song that defines what you're gonna be getting."

"OUT OF THIS WORLD"
"That's one of Tommy's [Thayer, guitarist.] He really pushed the limits. His playing is phenomenal. It has the kind of excitement that I like to hear where you're not quite sure if it's gonna go off the rails or not. That's what makes great rock n' roll."

"WALL OF SOUND"
"We're not trying to reinvent the wheel here; we're at our best when we don't over-think. It's not a Rubik's Cube, it's a song, you know? This one is absolutely, immediately recognizable and identifiable and true to being KISS. I put the blinders on us to keep us from being derailed or the attention span broken by things going on around us."

"HELL OR HALLELUJAH"
"Another up-tempo song, and it's very definitive. That's what I think is so great about this album: every track is quintessential. No one does it better -- and many have tried. When we hit the bulls-eye, we hit it full on. We've cut 14 tracks. How many we'll use or how this will play out will be interesting, but there's no filler."


January 4 : Paul Stanley checks in from the studio
From: KISSOnline.com / Blabbermouth.net
KISS members Paul Stanley (guitar, vocals) and Tommy Thayer (guitar), along with producer Greg Collins, have released a one-minute video message from Collins' studio, The Nook, where they are putting the finishing touches on the band's new CD, "Monster".


"[KISS is] about two days from [being] finished with this album," says Stanley. "It's almost done and it's awesome. It is by far the best thing we've done in I don't know how long. Have I ever said that before? Yeah. Was I right? Yeah. I'm right this time again. . . Truly, the album kicks major ass and we're very, very proud of it." Thayer adds, "You're gonna as as excited as we are, 'cause we're really excited. And we're not just saying that. This is great stuff. It's amazing."

In a 2011 interview with U.K.'s Classic Rock magazine, Stanley stated about KISS' follow-up to 2009's "Sonic Boom", "'Sonic Boom' was a pivotal album in the sense that we were aware of who we were as a performing band, but we had to re-establish who we are as a recording band. That being done, this is much easier and that much more self-assured."

Added bassist/vocalist Gene Simmons: "This new record feels heavier than 'Sonic Boom'. It feels like [it's] a connection between 'Destroyer' and 'Revenge'.

Regarding some of the tracks that will appear on "Monster", Stanley said, "I'd be surprised if the album didn't start with 'HELL OR HALLELUJAH'. It's up-tempo, a great riff, definitive KISS. There's a track called 'BORN TO BE SINNER', and Tommy [Thayer, guitar] has a song called 'OUT OF THIS WORLD', which is terrific. They're anthemic songs. That's the nature of how we write. There are no ballads."

Added Simmons: "'ARE YOU READY ?' is a new track that I worked out, wrote, and brought everyone into the studio and said: 'Let's bang this out.' Another of the new songs, tentatively titled 'WALL OF SOUND', we just came up with on the spot. The guts of that song were written in 40 minutes."

In a 2009 interview with Premier Guitar, Collins stated about the experience of working with KISS on "Sonic Boom", "It was amazing, because I was working with people that I idolized as a kid. Over the years I've learned that the dynamic in every band is different, and sometimes it can be tough, with politics, egos and however many years of baggage. I couldn't believe how incredibly healthy the creative relationship is with KISS. Paul was clearly in charge of the record, but he was open to everyone's ideas. Everything was discussed in an enjoyable, fun way. There was no sense of egos overwhelming the process or anyone being marginalized in any way. It was one of the most enjoyable experiences I ever had working with a band. . . . Paul has said that no other lineup could have made this record and I believe he's right. Everyone in KISS is confident about their role in the band. They're not trying to please anyone but themselves, which is the best way to make music. There was no sense of anxiety, no label, no A&R guy. It was just the band and myself, trying to make the best KISS record we could. It was a completely natural process, and hopefully the results speak for themselves."

"Monster" is tentatively due this spring.


January 4 : Kissin' Time! interviews Peppy Castro
From: kissintime.webs.com
There have been many people who had the opportunity to be associated with KISS and their career development over the years, but only one can say that he helped teach Ace Frehley the guitar. That man is Peppy Castro. From his time in the psychedelic Blues Magoos to working with KISS session guitarist Bob Kulick in Balance, Peppy has experienced success and gratification as a musician that few can experience. Recently, I got the opportunity to chat with Peppy about his musical career and much more. Enjoy!

Topics include Ace Frehley as a friend, Paul Stanley's 1978 solo album, and how did Paul Stanley end up on the BALANCE 1981 album ...

Read the interview clicking here.


January 3 : Eric Singer Talks New KISS Album In COTH PodCast
From: Creaturesofthenet.webs.com / Bravewords.com
Creatures Of The Net Podcast recently conducted an interview with KISS drummer Eric Singer. In the interview Singer reveals details about KISS' next album entitled 'Monster' set for release sometime this year. He also talks about the sound on the record, and past members of KISS, including guitarist Vinnie Vincent.

Listen to the podcast below:


December 30 : Legendary Rock Interview with Gary Shea (Warrior)
From: legendaryrockinterviews.com
Gary Shea is a knockout bass player and one of the easiest guys on the planet to talk to. He's probably one of the easiest to work with as well and has had the distinction of working with some of the biggest "big name" musicians on the planet. Some were supremely professional and straightforward, such as Steve Vai and Paul Stanley and others, like Vinnie Vincent and Yngwie J. Malmsteen, are remembered as being supremely talented but difficul;t to work with. Gary Shea has headlined major venues in Alcatrazz and gotten top 40 chart action with his band New England but is a musician's musician and is more than content to live in Michigan and play music he loves just because he loves it. If you're up his way go check out one of his gigs and stick around after the show to have a quick chat with Gary. If you like music as much as he does you might be in for a long night and some amazing stories. We talked with Gary for quite a while about his career and probably barely scratched the surface.

Topics includes Paul Stanley and the NEW ENGLAND 1979 album, touring with KISS in 1979; WARRIOR (with Vinnie Vincent), Alcatrazz (Yngwie Malmsteen, Graham Bonnet).

Read the interview clicking here.


last update : 2012-01-31


New Releases

NEW ENGLAND - New England
2012 high-fidelity SHM-CD produced by Paul Stanley (1979)




KISS - Hot In The Shade
2012 high-fidelity SHM-CD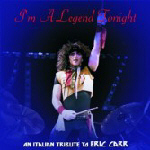 I'm a Legend Tonight

2012
An Italian Tribute To Eric Carr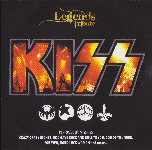 MISSKISS

2011
KISS 'Legends Tribute'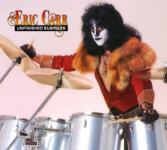 ERIC CARR

November, 2011
Unfinished Business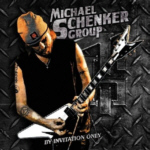 MICHAEL SCHENKER (Eric Singer)


By Invitation Only June 3, 2011



News Archives