NEWS UPDATE : December 2018



December 22 : Former FREHLEY'S COMET members rejoin forces In RETURN OF THE COMET


From :

Blabbermouth / returnofthecometband.com
Former FREHLEY'S COMET members John Regan (bass), Tod Howarth (guitar/lead vocals) and Richie Scarlet (guitar/lead vocals) have joined forces with former ACE FREHLEY drummer Steve Werner in RETURN OF THE COMET.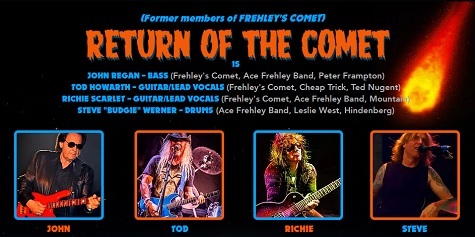 Original KISS guitarist Ace Frehley, Regan and world-renowned drummer Anton Fig formed FREHLEY'S COMET in 1984. The band went on to sell well over 1.5 million albums and had multiple MTV music videos in heavy rotation from 1987 to 1990.

Now for the first time ever, FREHLEY'S COMET alumni Regan, Howarth and Scarlet, along with Werner, will celebrate their writing, recording, touring and co-production contributions to the FREHLEY'S COMET legacy by performing the hits and classics from the FREHLEY'S COMET catalog and more under the name RETURN OF THE COMET.

RETURN OF THE COMET is:
* John Regan (FREHLEY'S COMET, ACE FREHLEY, PETER FRAMPTON) - bass
* Tod Howarth (FREHLEY'S COMET, CHEAP TRICK, TED NUGENT) - guitar/lead vocals
* Richie Scarlet (FREHLEY'S COMET, ACE FREHLEY, MOUNTAIN) - guitar/lead vocals
* Steve "Budgie" Werner (ACE FREHLEY, LESLIE WEST, HINDENBERG) - drums

Scarlet was in FREHLEY'S COMET from 1984 to 1985 and played in three of the band's seven different lineups.
Howarth was in FREHLEY'S COMET from 1986 to 1988 and was in the group's last three lineups.
Both Frehley and Regan were members of FREHLEY'S COMET for the duration of the band's four-year existence.

Frehley told Ultimate Classic Rock that the keyboards on FREHLEY'S COMET's debut album were a result of "Howarth's influence." He explained: "I tried to keep the keyboards to a minimum, because I'm really not a keyboard guy. KISS never really used them, except on a couple of songs. I always wanted to follow the same direction with my career as I had with KISS musically. It was almost like I had to fight to keep more keyboards off the record, because I was there with three other band members and my producer."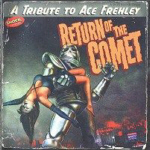 From :

KISS Related Recordings
In November 1997 USA label Shock Records released
"Return Of The Comet - A Tribute To Ace Frehley", which album contains (at the time) two previously unreleased Frehley's Comet tracks, "Back On the Streets" and "Animal", both re-recorded by the Comet Band.
The Comet Band (1997) was, Richie Scarlett (lead voacals, guitars), John Regan (bass), Steve Werner (drums) and
Arthur Stead (keyboards).

Frehley reunited with Regan and Howarth to perform the songs "Rock Soldiers" and "Cold Gin" during his September 2017
concert in Poughkeepsie, New York.


December 21 : DOUGLAS BLAIR digital single feat. Bruce Kulick


From :

Bruce Kulick (twitter) / Douglas Blair (facebook)
Bruce Kulick recently did a session with W.A.S.P.guitarist Doug Blair, adding acoustic guitar to his 1988 version of "The First Noel".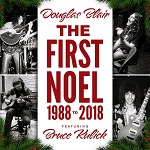 In 1988 Blair, then the lead guitarist for East Coast rock trio RUN 21, recorded and mixed "The First Noel" at Courtlen Studios in Hanson, MA. The recording utilized cassette, 2" and 1/4" analog tape, along with early computer-automated mixing, yet was never officially released.

Thirty years later, Blair, teams up with Kulick, arguably KISS's consummate former lead guitarist, who in 2018 recorded an "unplugged-style" magical counter-melody to Blair's long-lost analog masterpiece.

Bruce Kulick, Mike Dalager and Douglas Blair worked together on the HP Lovecraft Rock Opera project "Dreams in the Witch House"(from this same LA session new tracks were cut!!).

You can download the song at cdbaby for FREE for a while...


December 20 : Paul Stanley in the studio with SOUL STATION


From :

Paul Stanley (twitter)
KISS frontman Paul Stanley has entered the studio with his R&B band SOUL STATION to record a full-length album.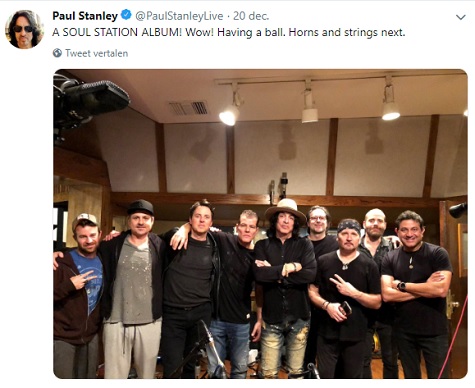 December 16 : Two Vinnie Vincent songs by VIRTUAL INVASION


From :

KISS Related Recordings
On December 25 2018 the band VIRTUAL INVASION will release two newly recorded digital singles, "Forbidden" and "Young Blood, Young Fire".
Both songs are written (and originally recorded) by Vinnie Vincent and Jeff Scott Soto for Vinnie Vincent's "1987 - 1988 Publishing Tape", but never released.

Virtual Invasion is a musical collaboration of musicians from various parts of the world paying homage to guitar virtuoso Vinnie Vincent. The band line up consists of vocalist Rick Rici from Brazil, guitarist Yukihiro Omura from Japan and bass guitarist Damian Bonadono from the United States. The idea for Virtual Invasion was first conceived in 2014 when the members decided to record a new version of the Warrior/Vinnie Vincent Invasion song titled "Back on the Streets".





December 8 : MARCEESE covers "Hotter Than Hell" album


From :

KISS Related Recordings
German folk artist MARCEESE fifth KISS-tribute album "Hotter Than Hell" will be released December 21 at Timezone Records.

Here's a small album review by KRR (Jelle Jansen) :
After "Baby Driver" (2013), "Have Love, Will Travel" (2015), "Black Diamond" (2016) and and 2017's "Torpedo Girl", this the 5th KISS Tribute by Berlin folk artist Marceese.
While his previous tribute albums are compilations of various cover versions from KISS 1974 up to 1980 "Unmasked" album, including the solo albums, this time Marceese decided to re-record the full "Hotter Than Hell" album with new arrangements.
Like I wrote before, I don't have any musical ability with folk music, but compared to Marceese' first two albums (with the Southern whiskey summer night campfire feeling), it seems this 2018 recording has a darker vibe. Still most of the songs are folk, but this time, the album sounds more 60's - early 70's folk with distorted guitars.
Sure, Marceese's folk can be heard in the new arrangements of "Got To Choose", "Hotter Than Hell" (with a cool instrumental part from halfway the song), "Strange Ways" and the Jazzy "All The Way".
"Parasite" 's new arrangement features a drum machine, together with the rhythm guitar makes it sounds funky, while "Goin' Blind" is turned into a dramatic ballad.
The 10 minute long vocal / distorted guitar version of "Mainline" reminds me to the early days of Pink Floyd. "Comin' Home" is turned into acoustic sort Stray Cats Rock 'n Roll song, but really misses Brian Setzer's voice ...
The album's highlights are the dark mid-tempo country version of "Watchin' You", together with the White Stripes (without drums !) sounding "Let me Go Rock 'n' Roll".



last update : 2018-12-31




New Releases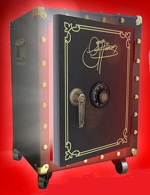 GENE SIMMONS CD Boxset
1966 - 2016 The Vault 2017/2018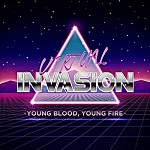 VIRTUAL INVASION Dec 25 2018
Young Blood, Young Fire (Vincent)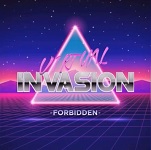 VIRTUAL INVASION Dec 25 2018
Forbidden (Vinnie Vincent Tribute)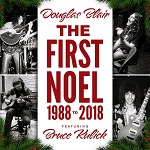 DOUGLAS BLAIR Dec 21 2018
The First Noel (Bruce Kulick)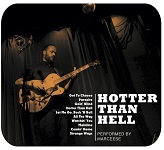 MARCEESE December 21 2018
Hotter Than Hell (KISS Tribute)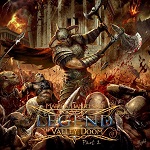 MARIUS DANIELSEN Nov 30 2018
Valley Doom Part 2 (Bruce Kulick)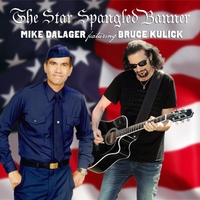 MIKE DALAGER Nov. 6, 2018
Star Spangled Banner (Bruce Kulick)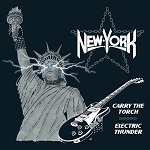 NEW YORK (Eric Carr) 2018
Carry The Torch / Electric Thunder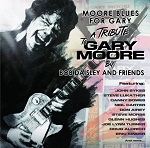 Moore Blues for Gary Oct. 26
Gary Moore Tribute (Eric Singer)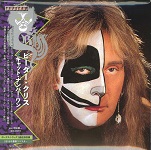 CRISS October 24, 2018
Cat # 1 (Japanese CD reissue)



PURE FIRE October 19 2018
The Ultimate KISS Tribute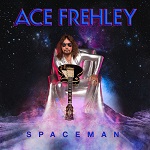 ACE FREHLEY October 19 2018
Spaceman (feat. Gene Simmons)


click album cover to buy !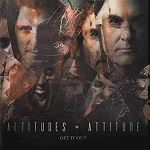 ALTITUDES & ATTITUDE
Get It Out (feat Ace Frehley)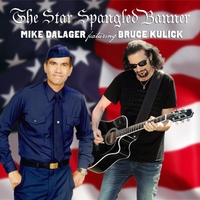 Click here to buy
MIKE DALAGER - The Star Spangled Banner (feat. Bruce Kulick)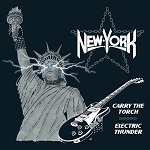 Click here to buy
NEW YORK
Carry The Torch / Electric Thunder


News Archives